School Balls - Corsages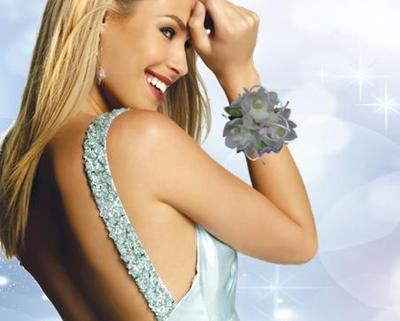 Wrist Corsages - Wristlets
A wrist corsage (or wristlet) is a decorative miniature arrangement of flowers worn on the arm for a formal occasion, perfect for School Balls. They are beautifully presented in a clear presentation box dressed with ribbons.
SCHOOL BALLS - FORMALS
The wrist corsage - wristlet is a very popular choice for school balls and other special events as it is easy to wear and dance with.
Certainly very popular for a school ball.
The perfect accessory for a special outfit and to enhance a magical night!

We love to make wristlets to match the girls ballgown and colours and will use beads, decorative wire, mini succulents, diamantes, pearls, crystals, glitter or feathers to enhance the main blooms and to make them modern, funky and a stunning piece of floral jewellery for them to wear and enjoy!
HOW TO ORDER YOUR WRIST CORSAGE
Please order by phone on 09 838 9058.
This way we can discuss the colours and flowers we have available.
We prefer one days notice, but understand sometimes it's a last minute decision.

Please note payment is required in advance by Credit Card (or bank deposit) or Pay in-store.

Pick up is in Rosebank Road, Avondale, Auckland OR you can order delivery of your corsage for an extra $15.

Prices:

Wrist corsage in presentation packaging - clear acetate box dressed with ribbons. $49

Add a beautiful Sparkly Diamante 4-Strand Bracelet for your corsage to be made on: Add extra $10

Buttonholes for guys $15

School Ball Special - Wrist corsage (pearl band) and matching buttonhole $59 (Save $5)
> Phone 09 838 9058 to Order.



Photos of Wrist Corsages


Below are some examples of different wrist corsages we have made, to give you some creative ideas.
YES! We can make in any colour to match her ball gown. Choose from a pearl or diamante bracelet.


1) Wristlet of mini orchids with diamante 2) Red Rose wrist corsage with feather.
details to add a hint of bling.
Perfectly pretty for a school ball.

3) Wrist Corsage of pretty polymin orchids 4) White mini orchid wrist corsage with
and purple and lavender accessories touch of soft pretty maribou feather.
and ribbons. Ideal for a Purple Dress.

5) School Ball corsage of mini yellow 6) Wrist corsage cymbidium orchid with
roses,touch of gypsophila and silver bling. light pink throat with bling details.



7) Popular blue details add to this sweet 8) Wrist corsage of white miniature roses
mini orchid wristlet. ribbons and pearls.
We can add ribbons and trims to match
any dress colour - Blues, Turquoise, Navy.

9) Black and white themed Wrist Corsage 10) Wristlet of mini polymin orchids,
white rose, black feathers and beads to highlighted in hot pink details, diamantes.
accessorize.

11) Hot pink rose wrist corsage accented 12) Wristlet in black and white, mini
with feathers, beads and ribbons. polymin orchids, beads and bows.

Perhaps your Date doesn't want to wear a Corsage?
Here are some cute gift items, that are a perfect alternative, to present on the way to the ball.