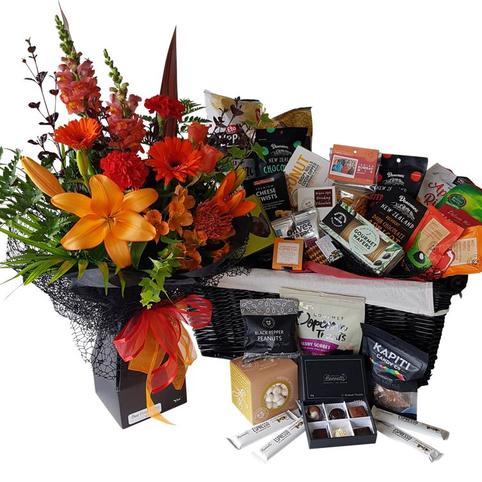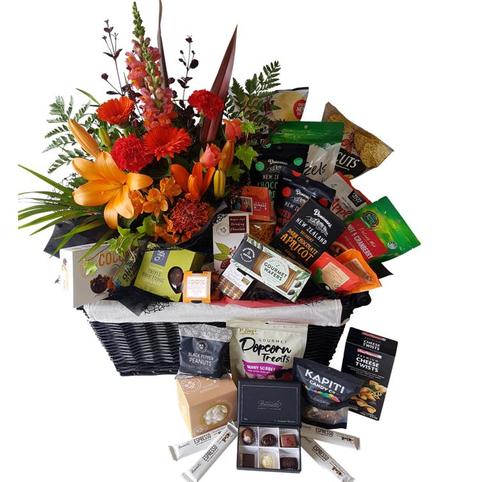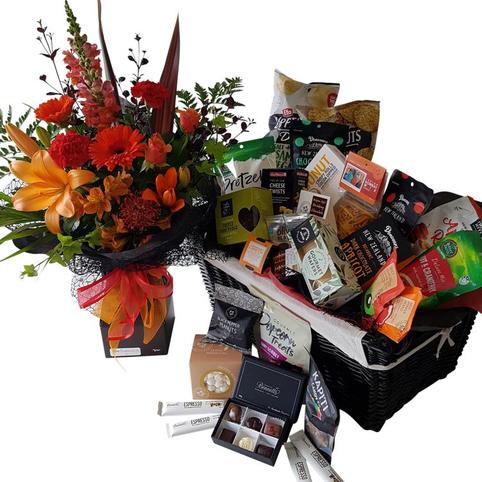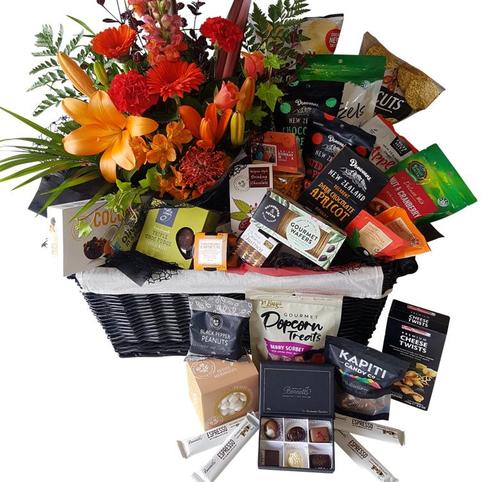 Continue Shopping
Latest Feedback
Aww thank you so much!! My Mum just received her Hamper and Flowers and was in tears lol. She sent me a video, the Hamper is HUGE and so Beautiful. Thank you for sending it so quickly as well, I really appreciate your amazing and prompt service!
Thank you again xx 🥰
Jane
(12 Jan 2021)
more reviews for this arrangement
Read all testimonials
HUGE Gift Basket and Flowers Package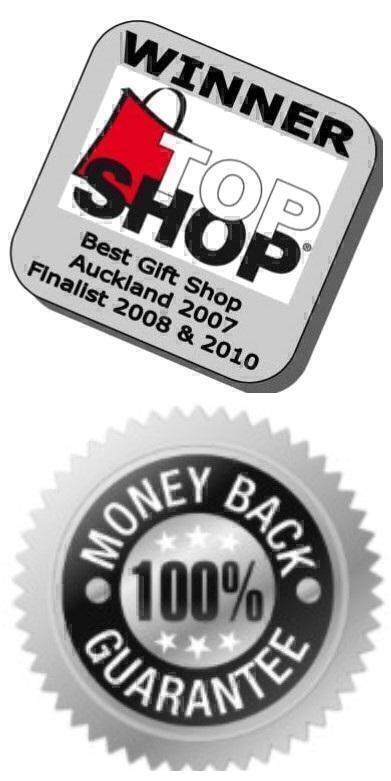 Large and Luxurious, this HUGE Gift Basket truly has the WOW Factor!

In a Giant Cotton-lined, dark cane Hamper Basket, with a large bouquet nestled in the side - Their gift basket is overflowing with the most delicious selection of goodies, Bennetts of Mangawhai Chocolates, Nuts, Luxury Popcorn, Crackers, Dried Fruits, Cookies, Meringues, Chips, Dips, Donovans Chocolates, Candies, Pretzels, Hot Chocolate and much, much more!
The Flowers - Your beautiful fresh bouquet will be gift-wrapped in a water filled Vox and nestled in the back corner of the basket so it truly is a complete gift (not sent seperately). YES - You can have any colour flowers - just let us know in the notes to Florist section of your order.

This basket is Big, Heavy and will be Talked about for Years to come!
Your HUGE Gift Basket and Flowers Package contains:
1 x Large Vox Bouquet of Flowers
1 x Eta Uppercuts Luxury Potato Chips
1 x Eta Uppercuts Luxury Nacho Chips
1 x Cheese Twists in Black Box
1 x Rutherford & Meyer Garlic Olive Oil Wafer Crackers
1 x Mother Earth Pretzels
1 x Cranberry Nut Trio
2 x Donovans Chocolate Clusters
1 x Donovans Chocolate Apricot Nougat
1 x Dr Bugs Luxury Popcorn
1 x Bennetts 6 Pack Chocolate Truffles
4 x Bennetts Chocolate Bar
1 x Coconut Crispy Rolls
1 x Caramel Capsicum 120mL
1 x Chutney Fig Pear & Walnut
1 x Petite Meringues
1 x Sneaky Snacks Bombay Mix
1 x Black Pepper Peanuts
1 x Olives
2 x Dip Sachet
1 x Hot Chocolate
1 x Dried Apple Rings
1 x Kapiti Candy Co. Candies
1 x Molly Woppy Cookies
1 x HUGE Fabric-Lined Cane Basket
Free Delivery in Auckland!