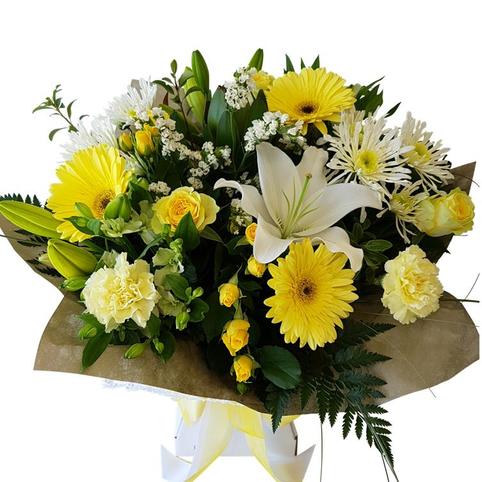 Continue Shopping
Latest Feedback
The Kwok Family were happy with the flowers and I was happy with the service and help that I received on the phone when I had problems trying to order online. Thanks so much. The flowers in the photos looked lovely.
Nancy
(22 Feb 2021)
more reviews for this arrangement
Read all testimonials
Harmony
A beautiful seasonal floral bouquet of yellow, lemons, creams & white fresh flowers, a gentle but sunny combination in perfect harmony.

Your bouquet will be packaged in a water-filled vox box and gift wrapped. This flower bouquet is perfect for any occasion including bereavement, birthday, house-warming or congratulations and will definitely bring smiles.

Why not add a Box of Chocolates or a candle or gift to go with your flowers.

If for any reason specific flowers is unavailable we will make your bouquet in the lovely shades of yellows and whites using the freshest flowers we have in store in this colour palette.
Free Delivery in Auckland!