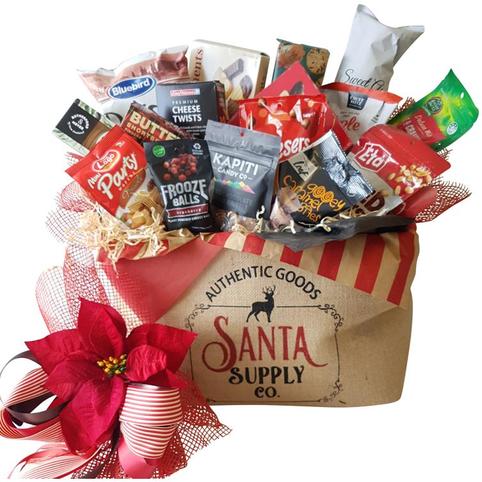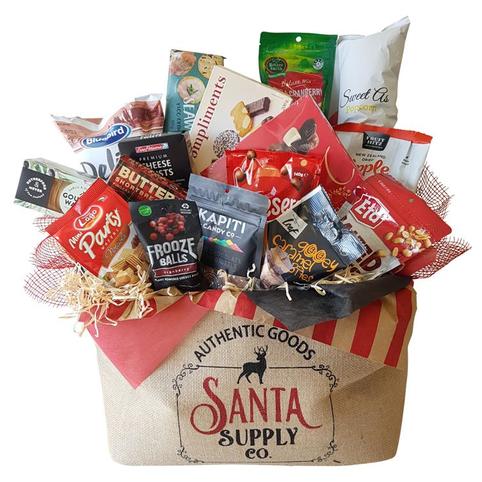 Continue Shopping
Christmas Extravaganza Gift Hamper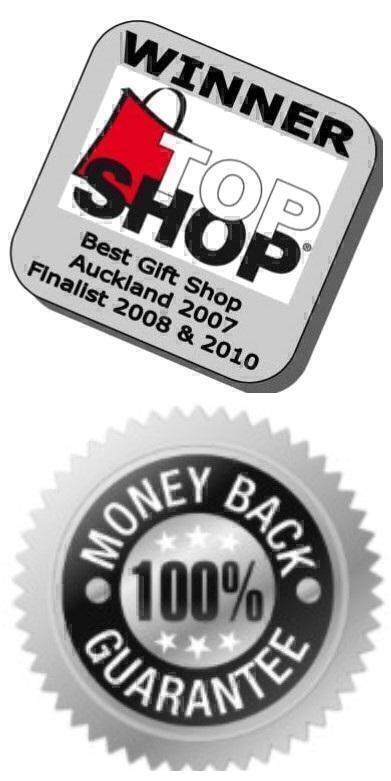 AVAILABLE FOR DELIVERY FROM 15 NOVEMBER

This is a large and extravagant Christmas Gift Hamper - perfect for sharing!

They will love munching through Cookies, crackers, biscuits, dried fruits, nuts, chips, popcorn and and other scrumptious treats. This is a great option to send to a family or workplace where your gift can be shared.
Beautifully presented in a lovely keepsake jute hamper printed with a stylish Xmas design. This is lined with tartan fabric and customers are raving about the hamper in the shop.
If for any reason an item is out of stock it will be replaced by another of the same or greater value - You can trust us to make your Christmas Hamper to your full value. They will be delighted!
Your Christmas Extravaganza Hamper contains:
1 x Macs Butter Shortbread Fingers
1 x Party Wafers
1 x Seaweed Rice Crackers
1 x Eta Peanuts
1 x Sweet As Popcorn
1 x Cheese Twists
1 x Rutherford & Meyer Garlic Olive Oil Wafer Crackers
1 x Lambertz Compliments Biscuits
1 x Kapiti Candy Co. Candies
1 x Maltesers
1 x Frooze Balls Cranberry
1 x Bluebird Caramelised Onion Chips
1 x Mother Earth Nuts & Cranberry
1 x Loaf Slices Gooey Caramel Bites
1 x Walkers Chocolates
1 x Dried Apple Rings
Free Delivery in Auckland!