Latest Feedback
Delivered lovely flowers as ordered and on-time as expected.
Hilary
(22 Oct 2021)

View this Arrangement
Read more testimonials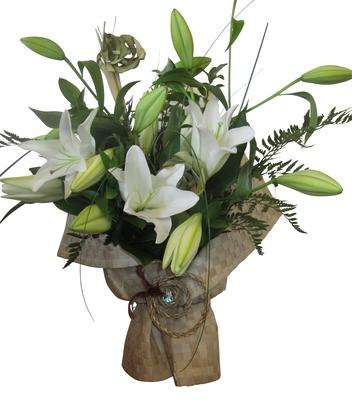 New Zealand Flowers
N.Z. Natives and Kiwiana Style New Zealand Flowers.
Best Blooms is a Floral Studio in Auckland New Zealand, we have a selection of N.Z inspired designs that bring some of our traditional cultural elements and icons arranged together with the freshest New Zealand grown local fresh flowers to create artistic designs with flair - and that touch of Kiwiana Style to send to friends and whanau in Auckland.
Flowers in Kete Wrap
A Kete is a traditional Maori woven flax basket - which creates a flexible basket that makes a gently shaped organic container for our floral designs and are great fun for our florists to work with.
We use them for both floral arrangements, presenting plants and even presentation of a gift basket looks terrific in a Kete style basket.
We also use a woven flax mat that is traditionally made from Harakeke - Flax. It is woven neatly and dries to a beautiful soft brown shade. This looks terrific wrapped around bouquets of beautiful New Zealand blooms and we add accents of hand-made woven flax flowers, rope twists in the shape of the Koru, paua shell, and other native NZ flora accents, each hand crafted by our florists to create a unique design.
Do you use N.Z. Native Flowers?
Unfortunately most of New Zealand's native flowers are very soft and do not last long as a cut flower, although they are much loved and enjoyed as trees and plants they are not freely available for us to work with in floristry.
We are however avid supporters of New Zealand grown cut flowers and our shop is filled with the freshest of locally grown flowers.
How do I send Flowers in New Zealand?
If you need to send flowers in Auckland, New Zealand - then we are a local florist that can definitely help and offer a wide variety of N.Z. style floral work to choose from.

However, if you wish to arrange for a delivery of flowers within New Zealand, then we advise, to get the very best value for money - the freshest flowers and a personal selection to choose from, we highly recommend you go direct to a local florist in the town or city you wish to send your flowers to. This is why we do not accept website orders for towns other than Auckland - as we want You - the customer - to get the best local flowers delivered.

Please see our personally compiled list of our own favourite New Zealand florists here.
This Directory of N.Z. Florists has flower shops listed in all the major N.Z. towns and cities:
Kaitaia, Whangarei, Hamilton, Tauranga, Rotorua, Taupo, New Plymouth, Hastings and Napier, Palmerston North, Wellington, Nelson, Christchurch, Greymouth, Dunedin, Invercargill, Queenstown and lots of small towns in between.
Please do check out a local florist - and save yourself money and cut out the middle man!
Here is our range of N.Z. inspired, Kiwiana style designs for delivery in Auckland.
Best Blooms - Same day flower delivery service Auckland New Zealand.


Free Delivery in Auckland!
New Zealand Flower Delivery Auckland