Latest Feedback
Hi Tessa
I love it how you have gone the extra mile by sending through a photo of what you sent to Bryce. There are not many companies who would take the time to do this so thank you, thank you, thank you!
Have a fantastic day.
Nicki
Rototuna High Schools
(27 Sep 2018)
View this Arrangement
Read more testimonials
Thank You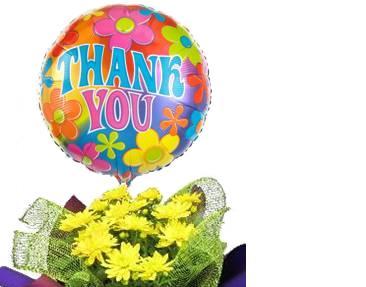 Thank you Gifts Delivered Today
"Thank you... Couldn't have done it without you... Thanks so much... That was so helpful... Thanks... You're a Rockstar... Thank you for all you've done for me... I really appreciate what you've done... Thanks Mum!
Sometimes... You need More than just Words!
Thank You Gifts - Free Delivery Auckland
Send a surprise thank you gift today. We can deliver in Auckland stylish pamper packs, thank you gift baskets, bright happy bunches of flowers, Thank You Gift Packages.
Thank You Balloons
We also stock 'Thank You' Balloons - 'You're appreciated' balloons - cheerful pot plants or pretty spring posies.
These all make a perfect gift to say thanks, and we can deliver your present for them to receive Today Beautifully Gift -Wrapped of course!
Thanks a Bunch!


Free Delivery in Auckland!