Thank You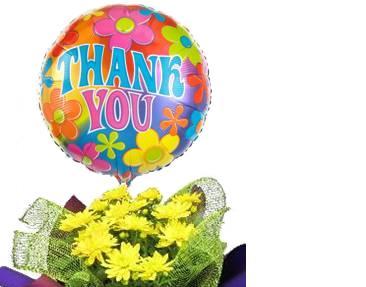 Thank you Gifts Delivered Today
"Thank you ... Couldn't have done it without you ... Thanks so much ... That was so helpful ... Thanks ... You're a Rockstar ... Thank you for all you've done for me ... I really appreciate what you've done ... Thanks Mum!

Sometimes ... You need More than just Words!

Free Gift Delivery Auckland
Send a surprise thank you gift today. We can deliver in Auckland stylish pamper packs, yummy gift baskets, bright happy bunches of flowers -
Thank You Balloons - you're appreciated balloons - cheerful pot plants or pretty spring posies.
These all make a perfect gift to say thanks, and we can deliver your present for them to receive Today - Beautifully Gift -Wrapped of course!
Thanks a Bunch!
Did you Know? - Best Blooms florist has been sponsoring the weekly
"Thanks a Bunch" flower bouquet in our local Waitakere newspaper: "The
Western Leader
" for over 7 Years!
This floral award recognises those who support their neighbours, friends and the West Auckland community.
You are welcome to nominate a deserving
West Auckland recipient
by emailing the newspaper
editor with your 100 word (maximum) nomination to edwl@snl.co.nz.
Look out for our beautiful bouquets every week in The Western Leader, with the heart-warming Thanks a Bunch Stories.

Free Delivery in Auckland!