Latest Feedback
Hi Guys
Just wanted to tell you, flowers were delivered yesterday and I didn't know but my hubby was off site at another location all day. The receptionist took them to my hubby's desk and put them in a vase and of course he was the talk of the office all day without him knowing.
Turned up to the office today to the roses and he sent me a stunning picture of them.
For a guy to be impressed with flowers is something else huh! - My husband said they are just so lovely WOW -
Just wanted to say thank you so much for the flowers, they are beautiful, even more beautiful than the pic you sent me.
I always come to you for special flowers and you never never disappoint me.
Thanks so much and hope you guys have a happy Friday xox
Vanessa Tottle
Sika
(19 Oct 2018)
View this Arrangement
Read more testimonials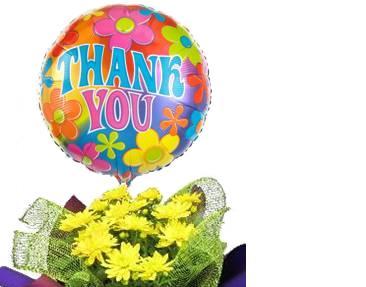 Thank You
Thank you Flowers Delivered Today
"Thank you... Couldn't have done it without you... Thanks so much... That was so helpful... Thanks... You're a Rockstar... Thank you for all you've done for me... I really appreciate what you've done... Thanks Mum!
Sometimes... You need More than just Words!
Thank You Gifts - Free Delivery Auckland
Send a surprise thank you gift today. We can deliver in Auckland stylish pamper packs, thank you gift baskets, bright happy bunches of flowers, Thank You Gift Packages.
Thank You Balloons
We also stock 'Thank You' Balloons - 'You're appreciated' balloons - cheerful pot plants or pretty spring posies.
These all make a perfect gift to say thanks, and we can deliver your present for them to receive Today Beautifully Gift -Wrapped of course!
Thanks a Bunch!


Free Delivery in Auckland!