Latest Feedback
Perfect!!!! I'm actually very pleased it's a wee brown teddy! You must be psychic! Much prefer the brown to the blue but didn't realise I could have asked for brown. Very happy with them thank you.
Job well done
Janet
(22 Jan 2021)

View this Arrangement
Read more testimonials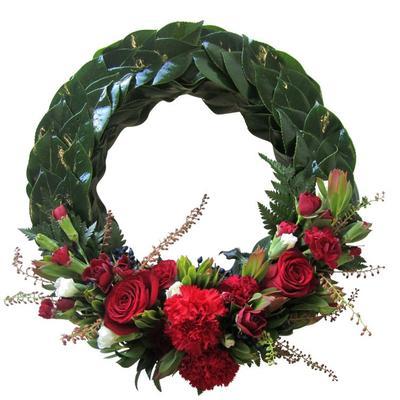 ANZAC Day
Traditional ANZAC Wreaths
Wreaths for Anzac Day - 25th April, carefully made by our Professional Florists using traditional techniques, an Anzac wreath is covered with long- lasting fresh glossy green leaves, arranged in the historical format designed to emulate a traditional laurel wreath used by the Ancient Romans to crown victors and the brave as a mark of honour.
RSA Red Poppy Tributes
This beautiful green symbolic wreath can then be highlighted with ribbon, symbolic R.S.A. Red Poppies or a floral focal area.
We can also make formal floral tributes for laying at the Cenotaph and remembrance services in Auckland.
Call our Professional Florists or Order Online
YES - we can do special prices for Bulk Orders to one address.
Please call Jo to discuss the details you need.
If you are requiring your own unique ANZAC Day flowers in either a traditional wreath style or a more modern design then please do call our Professional Florists direct on 09 838 9058 to discuss your needs, we would be honoured to help.

Free Delivery in Auckland.