What is the difference between a Flower Bouquet and a Posy?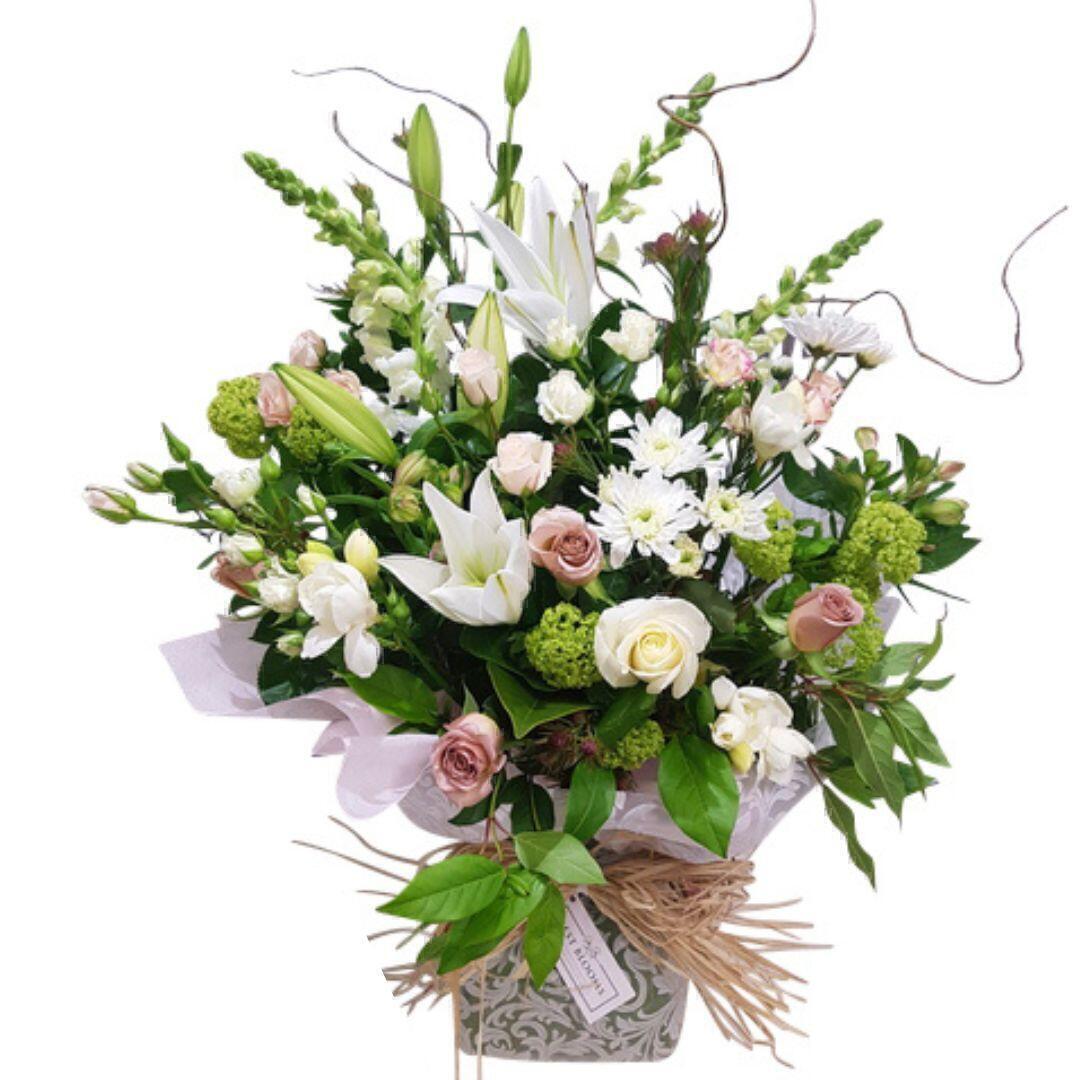 A bouquet differs from a posy, which is made from short stem blooms. Small Posies are ideal for displaying in a vase as a table centrepiece, or on your desk at work.
A bouquet is a beautiful bunch of flowers made by a florist. To construct, florists use long stems of fresh cut flowers, and arrange them in a hand tied spiralled stem style, or designs your blooms directly into a vase or vox ready for delivery in Auckland.

Our Best Blooms Sprays are beautifully presented, and delivered in a water-filled vox, to ensure long-lasting freshness, and delivered in Auckland by our expert Floral Couriers.
We also make our famous stylish Roses.

How Big will my Bouquet be?
When it comes to flowers - of course the florist is going to say big is definitely better!
(What could be more thrilling than a big armful of flowers to greet you at the door, or show off to your co-workers in the office!)

But how does Best Blooms measure up for value?
What is a Vox for Flowers?
What is a Vox? Not a Vase - not a box - It's a Vox Box. This clever water transport system for flowers was invented by a local West Auckland Florist, also a close friend of Best Blooms - Created by Daphne Studio of Design.

A vox box is the best way of delivering our flowers in water, as we 100% know it will ensure your florals will arrive fresher, last longer, as well as being beautifully presented.
Best Blooms florist also puts a spoonful of flower food in the water to ensure long lasting arrangements
Your Flowers can be left in the vox, or can be easily transferred to the recipients own vase to enjoy in the home. Voxes are perfect for sending Sympathy flower bouquets, as it means your spray is so much easier to receive, no cutting, no unwrapping and self contained in its own vase, making it simple for the grieving family.


Custom made Designer Bouquet of Flowers Auckland
Yes we can custom make flowers for you. We always have a wide range of fresh florals in stock and can create a beautiful bouquet to your specifications and include their favourite blooms or colours.

The best way to place a custom order is to choose the "Florists Choice Bouquet" and then use the "Notes to Florist" section on our easy online order form to tell us your special requests.
Or call & speak to our florists on 09 838 9058.
Click & Collect from our Florist Shop nearby.
Best Blooms Florist Bouquets
Yes our flower store has fresh Voxes, Bunches and Posies in stock, ready-to-go.
You can click and collect pre ordered online or come and see what we have made fresh for you.

Our flower shop is located right near the motorway at the Rosebank interchange, so we are near to everywhere, and probably the closest and easiest florist to get to in Auckland, with lots of parking right outside.

Fresh Flowers ready-to-go!
Open 8am until 5.30pm Monday to Friday
Open 8am till 6pm Friday
Open 8am till 12 noon Saturday.
return to top