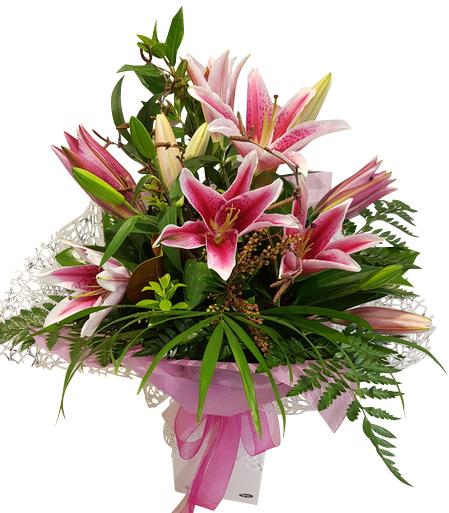 Description
Pink Lily Bouquet
A fragrant bouquet of pink lilies. These flowers are a variety of Oriental Lilies and are an amazing scented bloom.
These long-lasting beautiful flowers fill the house with perfume and are a very popular choice for any occasion. Lilies have an allure that has inspired generations - Read more about the history of Lilies here.
This is a type of stargazer pink lily bouquet, beautifully presented, and gift wrapped in a water-filled vox for long lasting freshness.
Standard Size: is a Vox Bouquet of Pink Lilies
Pink Lilies arranged and wrapped in a water-filled vox for long-lasting freshness, and easy to receive, care for and enjoy.
A vox box is perfect to send to anyone bereaved, to the hospital or to someone who will just enjoy looking and smelling your beautiful bouquet but dosen't want to fuss with flowers.
Small Size: is a Cone Wrap Bouquet of Pink Lilies
Small size pink lily bouquet is a cone wrap Bunch of pink lilies, with a wet tissue wrap around the stems and presented in a gift wrap.
They will get the pleasure of unwrapping the lilies and arranging into their own vase.
Perfect to send to someone who loves to take the time to arrange their own flowers. (Not so good to send to the hospital)
Did you know? Flower arranging is a great mindfulness practice.
PLEASE NOTE: Fresh Lilies sent in Bud
Your pink oriental lilies bouquet may be made up of a mixture of buds and open flowers, but we do believe in sending the freshest flowers we have available, to allow the recipient weeks of pleasure from your thoughtful gift.
Caution: Cat Safety with Lilies
Please note - Lilies are poisonous to cats so we do not recomend sending this bouquet to cat owners.

Here is our collection of Pink Bouquets >
Please see here for our full range of Lilies >