Latest Feedback
Excellent arrangement with beautiful flowers. My partner was very happy with them and they have lasted a long time. Thank you.
Jason
(14 Aug 2021)

Read more testimonials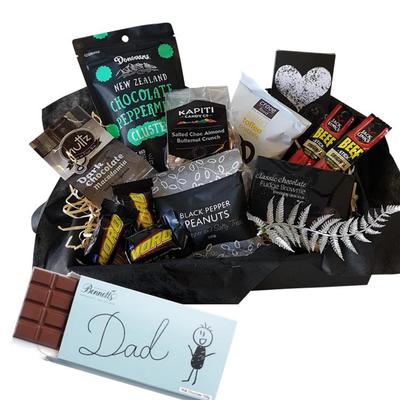 Fathers Day
Fathers Day in New Zealand
is Sunday 4th September 2022
Great gift ideas for Dad delivered in Auckland.
Fathers Day Gift Baskets, plants, masculine floral designs, to fathers day balloons.
Please note: Due to couriers schedules, Fathers Day deliveries will be made Saturday 3rd September.
Fathers Day Gift Baskets
Dads love gift baskets and they are very popular! From the "Man Box", to gourmet gift baskets, plant baskets, cappucino coffee gift boxes, sweet tooth hamper, for Fathers Day. We can deliver Gift baskets for men Auckland wide.
Plants for Fathers Day Delivery
Particularly for older Dads, a plant is a popular gift choice and great value too! Anthuriums, and peace lilys, are lush green flowering plants, or a kalanchoe plant gift can all be delivered for Fathers Day.

If you want us to make a special more bespoke gift for Dad, then please do call and speak to our florists direct on 09 838 9058, we are always happy to talk to our customers! :)

Free Delivery in Auckland!
Fathers Day Gift Baskets Auckland