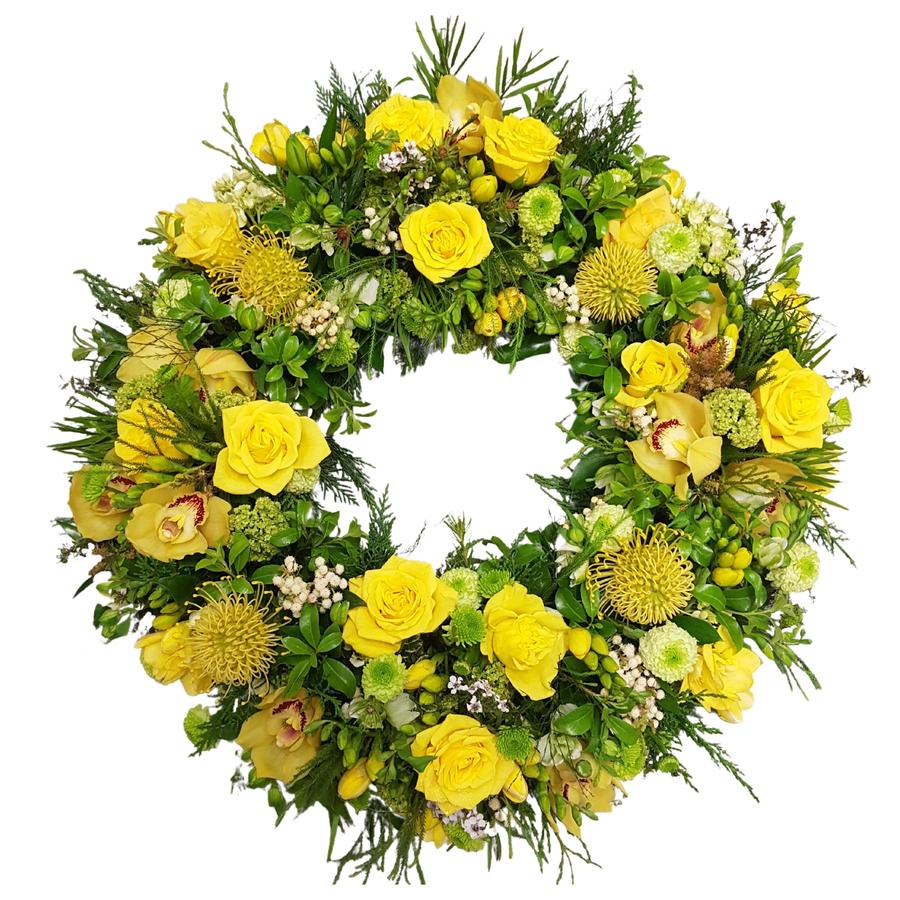 Description
Yellow Wreath of Sunshine
This joyful wreath celebrates the Life of those who sprinkled Sunshine wherever they went.
A beautiful Wreath in mixed seasonal yellow blooms, highlighted with lemon, creams, whites and greens. The flower choice may vary subject to what is fresh and in season and available in store but we will be working with this yellow colour palette for your wreath.

A Yellow Wreath is Truly a Circle of Sunshine.
In New Zealand traditionally wreaths are sent direct to the funeral.
We can either send to the funeral directors or to the chapel where the funeral is being held.
Funeral Wreaths are usually sent by family members, businesses, clubs or organisations as a more formal bereavement design to show their utmost respect and care of the deceased.
Can I get a Wreath on Same Day Delivery to the Funeral?
If you are looking for Same day Delivery to a Funeral - Please call us on 09 838 9058 to check if we are able to get to the funeral on time (Due to the size of Auckland and the couriers time frames.)
This special remembrance tribute will be delivered On-Time to the funeral, with your message tastefully displayed in a card holder.
Send a Yellow Wreath for an unbroken circle of joy and sunshine.

Here is our full Collection of Wreaths >
You may prefer to Send a Funeral Bouquet >