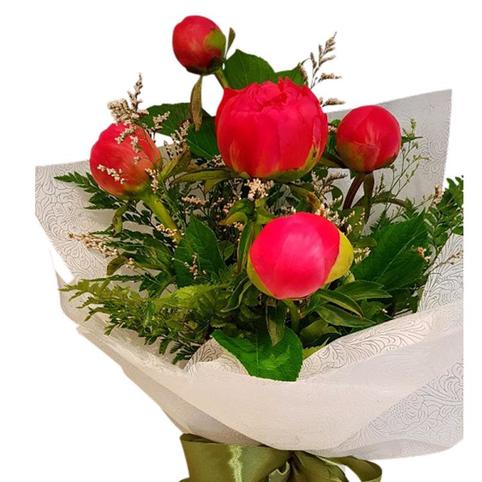 Continue Shopping
Latest Feedback
Thank you, it looks lovely.
Rosemary
(21 Nov 2020)
more reviews for this arrangement
Read all testimonials
Peony Bouquet
Peonies are a favourite flower for many!
These most amazing blooms start from a tight hard bud that swells and swells over days to reveal the lush multi-petalled frilly full-bloom peony flower.
With such a limited short flowering season they are indeed a special, luxurious bloom!
Peonies are in season in New Zealand from October - early December. These beautiful lush flowers come in a range of shades of corals, soft pinks, whites through to crimson and deep reds.
What colour Peony will be sent?
Colour available in store may change on a daily basis subject to what is available from the grower and what time of the peony season we are in - the season starts with warm coral shades and the other colours start to flower later.

Please call us if you wish to discuss the colour peonies we have in store - otherwise we will send your bouquet out with the freshest loveliest peonies in stock and colour may vary to picture.
This is a simple but lovely bouquet of 5 lush peonies, accented with foliage and filler in a water-filled vox with an elegant white wrap.

IMPORTANT PLEASE NOTE: Your peonies will be sent out in fresh tight bud form - This means they will last longer for the recipient and they get the joy of watching these beautiful flowers open to a gorgeous lush bloom over the next 7 days.
FREE DELIVERY IN AUCKLAND!