Stunning Peonies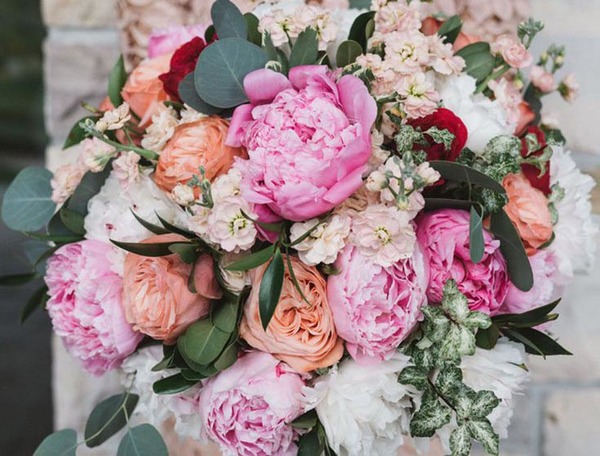 Peonies have abundant blooms that can open up to 10" wide, the Peony has a wide range of uses and a fascinating history. Their large, compact double blooms are versatile in both traditional and contemporary floral arrangements.
Flowers in Focus - Peonies
Can you Grow Peonies in Auckland?
Sadly no, not in Auckland. Peonies need cold winters to allow the flowers to bloom. In New Zealand that means you need to be in a growing zone, that gets 2 or 3 hard cold white frosts in the winter to encourage peony flower growth in the spring. I have heard gardeners talk about putting bags of ice over their south facing gardens and having a go at growing Peonies in Auckland, but I am yet to see this result in Peony flowers growing here in Tamaki Makaurau.
What Colour do Peonies come in?
Peonies come in a range of colours, from muted, delicate pinks, whites and yellows, to stronger pinks and bright reds.
Different colour peonies flower at different times, so the colours of the blooms available at your florist will vary through the peonie season. First off we get gorgeous coral peonies, then deep burgundy red peonies, then through the white and soft pink peonies and some yellow tree peonies towards the end of the peonie season.

Their compact blooms are highly attractive in both their partially and fully open states, with many varieties having a sweet scent as well.

Peony Flowers are a native to Asia, Europe, and Western North America, there are over 6500 different varieties of peonies.
Do Peonies have a Meaning?
The traditional meaning of Peonies is Bashfulness or Shyness. The history of Peonies goes back a long way, with the flowers found in Chinese and Japanese art, and in Eastern medicines to treat headaches, asthma, convulsions, liver disease, and more.
Peony flowers were associated with a 'devil-may-care attitude' and disregard for consequence, often depicted alongside lion, koi, tigers and dragons.
In western culture however, the Peony was used to symbolise love, honour and romance, and hence has found a place in wedding centrepieces and peony bouquets.
Fun Facts about Peonies - Can you eat Peony flowers?
Peonies have been used as a garnish for desserts and drinks as they produce a sugar like substance.
This substance can prevent your blooms from opening fully - in nature ants eat this up allowing blooms to open. In cut flowers this can be delicately rinsed off by immersing briefly in warm water.


Througout the Middle Ages, paintings of peonies showed their ripe seed-capsules. It was the seeds, not the flowers, which were medically significant.


Peony petals are sometimes added to salads, punches or lemonade, with a flavour described as similar to peach or strawberry.


Peony are considered a good omen for a happy marriage, and are the traditional flower for 12th wedding anniversaries.


The Netherlands is the largest producer of Peony cut flowers, producing 40% of the world's supply. (So the dutch aren't just

all about Tulips

!)


When are Peonies in Season in Auckland?
Best Blooms Florist will have fresh Peonies in store from late October til mid December. Ask for a large lush peony bouquet or have your peonies incorporated into a Florist's Choice arrangement with other seasonal blooms. Peony Flowers are guaranteed to bring smiles!
See here for more information on N.Z. Seasons of Flowers.


Other Articles in our Flowers in Focus Series:
Best Blooms | 09 August 2023, 01:53 PM