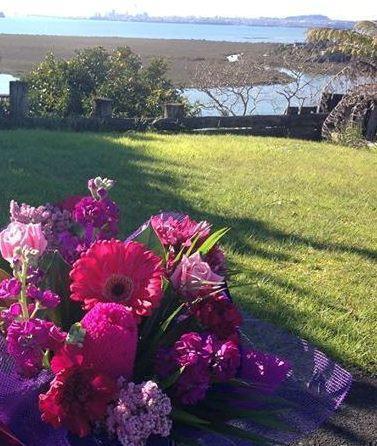 Photo taken of flowers while delivering in Auckland's West Harbour N.Z.
Auckland Flower Delivery Information
Best Blooms Award-Winning Local Florist.
Yes! We can deliver flowers for you Auckland wide. Best Blooms is a very busy team of N.Z.P.F trained Florists. We use Professional Floral Couriers and our service is 100% Guaranteed!
What Suburbs in Auckland are "FREE Delivery"?
Below is the full list of Auckland Suburbs we deliver flowers to.
You can see we deliver almost everywhere and almost all suburbs are Free!
Check out the list below to see if there are any delivery charges required for remote or rural addresses.
What Time do I need to Order by for Flower Delivery Today?
Order Flowers by 10.15 for Business Delivery Auckland Metro.
Order by 2.15pm for Same Day Home or Hospital Delivery.
Order by 9.30 for Same Day Saturday Delivery.
Please do Call us on 09 838 9058 for up-to-date courier information as we have fabulous couriers and will always try and meet your last minute orders if possible.
How Do I Order Flowers Online?
Latest Feedback
You were absolutely fabulous in all ways!
Thanks again
Cheers
Tonia
(22 Oct 2021)

View this Arrangement
Read more testimonials
Suburb
Delivery
Charge
Delivery Cut-off Times
Home
Business
Hospital
School
Saturday
Airport Oaks
$0.00
02:15 PM
10:15 AM
02:15 PM
10:15 AM
10:15 AM
Albany
$0.00
02:15 PM
10:15 AM
02:15 PM
10:15 AM
10:15 AM
Albany Heights
$15.00
10:15 AM
10:15 AM
10:15 AM
10:15 AM
09:15 AM
Albany Rural
$15.00
10:15 AM
10:15 AM
10:15 AM
10:15 AM
09:15 AM
Albany Rural Paremoremo
$15.00
10:15 AM
10:15 AM
10:15 AM
10:15 AM
09:15 AM
Alfriston
$15.00
10:15 AM
10:15 AM
10:15 AM
10:15 AM
09:15 AM
Ardmore
$20.00
10:15 AM
10:15 AM
10:15 AM
10:15 AM
09:15 AM
Army Bay
$30.00
10:15 AM
10:15 AM
10:15 AM
10:15 AM
09:15 AM
Auckland Airport
$0.00
02:15 PM
10:15 AM
02:15 PM
10:15 AM
10:15 AM
Auckland City
$0.00
02:15 PM
10:15 AM
02:15 PM
10:15 AM
10:15 AM
Auckland Hospital
$0.00
02:15 PM
10:15 AM
02:15 PM
10:15 AM
10:15 AM
Auckland Metropolitan
$0.00
02:15 PM
10:15 AM
02:15 PM
10:15 AM
10:15 AM
Auckland Outer
$15.00
10:15 AM
10:15 AM
10:15 AM
10:15 AM
09:15 AM
Auckland Rural
$0.00
10:15 AM
10:15 AM
10:15 AM
10:15 AM
09:15 AM
Auckland West
$0.00
03:00 PM
11:00 AM
03:00 PM
10:15 AM
10:45 AM
Avondale
$0.00
02:15 PM
10:15 AM
02:15 PM
10:15 AM
10:15 AM
Awhitu Peninsula
$40.00
10:15 AM
10:15 AM
10:15 AM
10:15 AM
09:15 AM
Balmoral
$0.00
02:15 PM
10:15 AM
02:15 PM
10:15 AM
10:15 AM
Bayswater
$0.00
02:15 PM
10:15 AM
02:15 PM
10:15 AM
10:15 AM
Bayview
$0.00
02:15 PM
10:15 AM
02:15 PM
10:15 AM
10:15 AM
Beach Haven
$0.00
02:15 PM
10:15 AM
02:15 PM
10:15 AM
10:15 AM
Beachlands
$15.00
10:15 AM
10:15 AM
10:15 AM
10:15 AM
09:15 AM
Belmont
$0.00
02:15 PM
10:15 AM
02:15 PM
10:15 AM
10:15 AM
Bethells Beach
$20.00
10:15 AM
10:15 AM
10:15 AM
10:15 AM
09:15 AM
Birkdale
$0.00
02:15 PM
10:15 AM
02:15 PM
10:15 AM
10:15 AM
Birkenhead
$0.00
02:15 PM
10:15 AM
02:15 PM
10:15 AM
10:15 AM
Birthcare Hospital Parnell
$0.00
02:15 PM
10:15 AM
02:15 PM
10:15 AM
10:15 AM
Blockhouse Bay
$0.00
02:15 PM
10:15 AM
02:15 PM
10:15 AM
10:15 AM
Botany Downs
$0.00
02:15 PM
10:15 AM
02:15 PM
10:15 AM
10:15 AM
Browns Bay
$0.00
02:15 PM
10:15 AM
02:15 PM
10:15 AM
10:15 AM
Bucklands Beach
$0.00
02:15 PM
10:15 AM
02:15 PM
10:15 AM
10:15 AM
Campbells Bay
$0.00
02:15 PM
10:15 AM
02:15 PM
10:15 AM
10:15 AM
Castor Bay
$0.00
02:15 PM
10:15 AM
02:15 PM
10:15 AM
10:15 AM
Chatswood
$0.00
02:15 PM
10:15 AM
02:15 PM
10:15 AM
10:15 AM
Chelsea
$0.00
02:15 PM
10:15 AM
02:15 PM
10:15 AM
10:15 AM
Cheltenham
$0.00
02:15 PM
10:15 AM
02:15 PM
10:15 AM
10:15 AM
City CBD
$0.00
02:15 PM
10:15 AM
02:15 PM
10:15 AM
10:15 AM
Clarks Beach
$25.00
10:15 AM
10:15 AM
10:15 AM
10:15 AM
09:15 AM
Clendon Park
$0.00
02:15 PM
10:15 AM
02:15 PM
10:15 AM
10:15 AM
Clevedon
$20.00
10:15 AM
10:15 AM
10:15 AM
10:15 AM
09:15 AM
Coatesville
$15.00
10:15 AM
10:15 AM
10:15 AM
10:15 AM
09:15 AM
Cockle Bay
$0.00
02:15 PM
10:15 AM
02:15 PM
10:15 AM
10:15 AM
Conifer Grove
$0.00
02:15 PM
10:15 AM
02:15 PM
10:15 AM
10:15 AM
Cornwallis
$20.00
10:15 AM
10:15 AM
10:15 AM
10:15 AM
09:15 AM
Dairy Flat
$20.00
10:15 AM
10:15 AM
10:15 AM
10:15 AM
09:15 AM
Dannemora
$0.00
02:15 PM
10:15 AM
02:15 PM
10:15 AM
10:15 AM
Devonport
$0.00
02:15 PM
10:15 AM
02:15 PM
10:15 AM
10:15 AM
Drury
$15.00
10:15 AM
10:15 AM
10:15 AM
10:15 AM
09:15 AM
East Tamaki
$0.00
02:15 PM
10:15 AM
02:15 PM
10:15 AM
10:15 AM
Eastern Beach
$0.00
02:15 PM
10:15 AM
02:15 PM
10:15 AM
10:15 AM
Eden Terrace
$0.00
02:15 PM
10:15 AM
02:15 PM
10:15 AM
10:15 AM
Edgewater
$0.00
02:15 PM
10:15 AM
02:15 PM
10:15 AM
10:15 AM
Ellerslie
$0.00
02:15 PM
10:15 AM
02:15 PM
10:15 AM
10:15 AM
Epsom
$0.00
02:15 PM
10:15 AM
02:15 PM
10:15 AM
10:15 AM
Fairview Heights
$0.00
02:15 PM
10:15 AM
02:15 PM
10:15 AM
10:15 AM
Farm Cove
$0.00
02:15 PM
10:15 AM
02:15 PM
10:15 AM
10:15 AM
Favona
$0.00
02:15 PM
10:15 AM
02:15 PM
10:15 AM
10:15 AM
Flat Bush
$0.00
10:15 AM
10:15 AM
10:15 AM
10:15 AM
09:15 AM
Forrest Hill
$0.00
02:15 PM
10:15 AM
02:15 PM
10:15 AM
10:15 AM
Freemans Bay
$0.00
02:15 PM
10:15 AM
02:15 PM
10:15 AM
10:15 AM
French Bay
$0.00
10:15 AM
10:15 AM
10:15 AM
10:15 AM
09:15 AM
Glen Eden
$0.00
03:00 PM
11:00 AM
03:00 PM
10:15 AM
10:45 AM
Glen Innes
$0.00
02:15 PM
10:15 AM
02:15 PM
10:15 AM
10:15 AM
Glenbrook
$25.00
10:15 AM
10:15 AM
10:15 AM
10:15 AM
09:15 AM
Glendene
$0.00
03:00 PM
11:00 AM
03:00 PM
10:15 AM
10:45 AM
Glendowie
$0.00
02:15 PM
10:15 AM
02:15 PM
10:15 AM
10:15 AM
Glenfield
$0.00
02:15 PM
10:15 AM
02:15 PM
10:15 AM
10:15 AM
Goodwood Heights
$0.00
02:15 PM
10:15 AM
02:15 PM
10:15 AM
10:15 AM
Grafton
$0.00
02:15 PM
10:15 AM
02:15 PM
10:15 AM
10:15 AM
Green Bay
$0.00
02:15 PM
10:15 AM
02:15 PM
10:15 AM
10:15 AM
Greenhithe
$0.00
10:15 AM
10:15 AM
10:15 AM
10:15 AM
09:15 AM
Greenlane
$0.00
02:15 PM
10:15 AM
02:15 PM
10:15 AM
10:15 AM
Grey Lynn
$0.00
02:15 PM
10:15 AM
02:15 PM
10:15 AM
10:15 AM
Gulf Harbour
$30.00
10:15 AM
10:15 AM
10:15 AM
10:15 AM
09:15 AM
Half Moon Bay
$0.00
02:15 PM
10:15 AM
02:15 PM
10:15 AM
10:15 AM
Harbour View
$0.00
02:15 PM
10:15 AM
02:15 PM
10:15 AM
10:15 AM
Hauraki
$0.00
02:15 PM
10:15 AM
02:15 PM
10:15 AM
10:15 AM
Helensville
$20.00
10:15 AM
10:15 AM
10:15 AM
10:15 AM
09:15 AM
Henderson
$0.00
03:00 PM
11:00 AM
03:00 PM
10:15 AM
10:45 AM
Henderson Auckland
$0.00
03:00 PM
11:00 AM
03:00 PM
10:15 AM
10:45 AM
Henderson Heights
$0.00
03:00 PM
11:00 AM
03:00 PM
10:15 AM
10:45 AM
Henderson Valley
$0.00
03:00 PM
11:00 AM
03:00 PM
10:15 AM
10:45 AM
Herald Island
$0.00
10:15 AM
10:15 AM
10:15 AM
10:15 AM
09:15 AM
Herne Bay
$0.00
02:15 PM
10:15 AM
02:15 PM
10:15 AM
10:15 AM
Hibiscus Coast
$25.00
10:15 AM
10:15 AM
10:15 AM
10:15 AM
09:15 AM
Highbury
$0.00
02:15 PM
10:15 AM
02:15 PM
10:15 AM
10:15 AM
Highland Park
$0.00
02:15 PM
10:15 AM
02:15 PM
10:15 AM
10:15 AM
Hillcrest
$0.00
02:15 PM
10:15 AM
02:15 PM
10:15 AM
10:15 AM
Hillsborough
$0.00
02:15 PM
10:15 AM
02:15 PM
10:15 AM
10:15 AM
Hobsonville
$0.00
10:15 AM
10:15 AM
10:15 AM
10:15 AM
09:15 AM
Howick
$0.00
02:15 PM
10:15 AM
02:15 PM
10:15 AM
10:15 AM
Huapai
$0.00
10:15 AM
10:15 AM
10:15 AM
10:15 AM
09:15 AM
Huia
$20.00
10:15 AM
10:15 AM
10:15 AM
10:15 AM
09:15 AM
Hunua
$20.00
10:15 AM
10:15 AM
10:15 AM
10:15 AM
09:15 AM
Karaka
$15.00
10:15 AM
10:15 AM
10:15 AM
10:15 AM
09:15 AM
Karekare
$20.00
10:15 AM
10:15 AM
10:15 AM
10:15 AM
09:15 AM
Kaurilands
$0.00
03:00 PM
11:00 AM
03:00 PM
10:15 AM
10:45 AM
Kelston
$0.00
03:00 PM
11:00 AM
03:00 PM
10:15 AM
10:45 AM
Kingseat
$15.00
10:15 AM
10:15 AM
10:15 AM
10:15 AM
09:15 AM
Kingsland
$0.00
02:15 PM
10:15 AM
02:15 PM
10:15 AM
10:15 AM
Kohimarama
$0.00
02:15 PM
10:15 AM
02:15 PM
10:15 AM
10:15 AM
Kumeu
$0.00
10:15 AM
10:15 AM
10:15 AM
10:15 AM
09:15 AM
Laingholm
$15.00
10:15 AM
10:15 AM
10:15 AM
10:15 AM
09:15 AM
Lincoln Road
$0.00
03:00 PM
11:00 AM
03:00 PM
10:15 AM
10:45 AM
Long Bay
$0.00
02:15 PM
10:15 AM
02:15 PM
10:15 AM
10:15 AM
Lucas Heights
$15.00
10:15 AM
10:15 AM
10:15 AM
10:15 AM
09:15 AM
Lynfield
$0.00
02:15 PM
10:15 AM
02:15 PM
10:15 AM
10:15 AM
Mairangi Bay
$0.00
02:15 PM
10:15 AM
02:15 PM
10:15 AM
10:15 AM
Mangere
$0.00
02:15 PM
10:15 AM
02:15 PM
10:15 AM
10:15 AM
Mangere Bridge
$0.00
02:15 PM
10:15 AM
02:15 PM
10:15 AM
10:15 AM
Mangere East
$0.00
02:15 PM
10:15 AM
02:15 PM
10:15 AM
10:15 AM
Manly
$25.00
10:15 AM
10:15 AM
10:15 AM
10:15 AM
09:15 AM
Manukau
$0.00
02:15 PM
10:15 AM
02:15 PM
10:15 AM
10:15 AM
Manukau Heads
$40.00
10:15 AM
10:15 AM
10:15 AM
10:15 AM
09:15 AM
Manurewa
$0.00
02:15 PM
10:15 AM
02:15 PM
10:15 AM
10:15 AM
Maraetai
$15.00
10:15 AM
10:15 AM
10:15 AM
10:15 AM
09:15 AM
Massey
$0.00
03:00 PM
11:00 AM
03:00 PM
10:15 AM
10:45 AM
McLaren Park
$0.00
03:00 PM
11:00 AM
03:00 PM
10:15 AM
10:45 AM
Meadowbank
$0.00
02:15 PM
10:15 AM
02:15 PM
10:15 AM
10:15 AM
Mellons Bay
$0.00
02:15 PM
10:15 AM
02:15 PM
10:15 AM
10:15 AM
Mercy Ascot Hospital Epsom
$0.00
02:15 PM
10:15 AM
02:15 PM
10:15 AM
10:15 AM
Mercy Ascot Hospital Greenlane
$0.00
02:15 PM
10:15 AM
02:15 PM
10:15 AM
10:15 AM
Middlemore Hospital
$0.00
02:15 PM
10:15 AM
02:15 PM
10:15 AM
10:15 AM
Milford
$0.00
02:15 PM
10:15 AM
02:15 PM
10:15 AM
10:15 AM
Millwater
$25.00
10:15 AM
10:15 AM
10:15 AM
10:15 AM
09:15 AM
Mission Bay
$0.00
02:15 PM
10:15 AM
02:15 PM
10:15 AM
10:15 AM
Morningside
$0.00
02:15 PM
10:15 AM
02:15 PM
10:15 AM
10:15 AM
Mt Albert
$0.00
02:15 PM
10:15 AM
02:15 PM
10:15 AM
10:15 AM
Mt Eden
$0.00
02:15 PM
10:15 AM
02:15 PM
10:15 AM
10:15 AM
Mt Roskill
$0.00
02:15 PM
10:15 AM
02:15 PM
10:15 AM
10:15 AM
Mt Wellington
$0.00
02:15 PM
10:15 AM
02:15 PM
10:15 AM
10:15 AM
Muriwai
$20.00
10:15 AM
10:15 AM
10:15 AM
10:15 AM
09:15 AM
Murrays Bay
$0.00
02:15 PM
10:15 AM
02:15 PM
10:15 AM
10:15 AM
New Lynn
$0.00
03:00 PM
11:00 AM
03:00 PM
10:15 AM
10:45 AM
New Windsor
$0.00
02:15 PM
10:15 AM
02:15 PM
10:15 AM
10:15 AM
Newmarket
$0.00
02:15 PM
10:15 AM
02:15 PM
10:15 AM
10:15 AM
North Harbour
$0.00
02:15 PM
10:15 AM
02:15 PM
10:15 AM
10:15 AM
North Shore
$0.00
02:15 PM
10:15 AM
02:15 PM
10:15 AM
10:15 AM
North Shore Hospital
$0.00
02:15 PM
10:15 AM
02:15 PM
10:15 AM
10:15 AM
Northcote
$0.00
02:15 PM
10:15 AM
02:15 PM
10:15 AM
10:15 AM
One Tree Hill
$0.00
02:15 PM
10:15 AM
02:15 PM
10:15 AM
10:15 AM
Onehunga
$0.00
02:15 PM
10:15 AM
02:15 PM
10:15 AM
10:15 AM
Orakei
$0.00
02:15 PM
10:15 AM
02:15 PM
10:15 AM
10:15 AM
Oratia
$0.00
10:15 AM
10:15 AM
10:15 AM
10:15 AM
09:15 AM
Orewa
$25.00
10:15 AM
10:15 AM
10:15 AM
10:15 AM
09:15 AM
Otahuhu
$0.00
02:15 PM
10:15 AM
02:15 PM
10:15 AM
10:15 AM
Otara
$0.00
02:15 PM
10:15 AM
02:15 PM
10:15 AM
10:15 AM
Owairaka
$0.00
02:15 PM
10:15 AM
02:15 PM
10:15 AM
10:15 AM
Pakuranga
$0.00
02:15 PM
10:15 AM
02:15 PM
10:15 AM
10:15 AM
Palm Heights
$0.00
03:00 PM
11:00 AM
03:00 PM
10:15 AM
10:45 AM
Panmure
$0.00
02:15 PM
10:15 AM
02:15 PM
10:15 AM
10:15 AM
Papakura
$15.00
10:15 AM
10:15 AM
10:15 AM
10:15 AM
09:15 AM
Papakura Red Hills
$15.00
10:15 AM
10:15 AM
10:15 AM
10:15 AM
09:15 AM
Papatoetoe
$0.00
02:15 PM
10:15 AM
02:15 PM
10:15 AM
10:15 AM
Parakai
$20.00
10:15 AM
10:15 AM
10:15 AM
10:15 AM
09:15 AM
Parau
$15.00
10:15 AM
10:15 AM
10:15 AM
10:15 AM
09:15 AM
Paremoremo
$15.00
10:15 AM
10:15 AM
10:15 AM
10:15 AM
09:15 AM
Parnell
$0.00
02:15 PM
10:15 AM
02:15 PM
10:15 AM
10:15 AM
Patumahoe
$25.00
10:15 AM
10:15 AM
10:15 AM
10:15 AM
09:15 AM
Penrose
$0.00
02:15 PM
10:15 AM
02:15 PM
10:15 AM
10:15 AM
Piha
$20.00
10:15 AM
10:15 AM
10:15 AM
10:15 AM
09:15 AM
Pinehill
$0.00
02:15 PM
10:15 AM
02:15 PM
10:15 AM
10:15 AM
Point England
$0.00
02:15 PM
10:15 AM
02:15 PM
10:15 AM
10:15 AM
Ponsonby
$0.00
02:15 PM
10:15 AM
02:15 PM
10:15 AM
10:15 AM
Pt Chevalier
$0.00
02:15 PM
10:15 AM
02:15 PM
10:15 AM
10:15 AM
Pukekohe
$25.00
10:15 AM
10:15 AM
10:15 AM
10:15 AM
09:15 AM
Ramarama
$25.00
10:15 AM
10:15 AM
10:15 AM
10:15 AM
09:15 AM
Ranui
$0.00
02:15 PM
10:15 AM
02:15 PM
10:15 AM
10:15 AM
Red Beach
$25.00
10:15 AM
10:15 AM
10:15 AM
10:15 AM
09:15 AM
Red HIll
$15.00
10:15 AM
10:15 AM
10:15 AM
10:15 AM
09:15 AM
Redvale
$15.00
10:15 AM
10:15 AM
10:15 AM
10:15 AM
09:15 AM
Remuera
$0.00
02:15 PM
10:15 AM
02:15 PM
10:15 AM
10:15 AM
Riverhead
$0.00
10:15 AM
10:15 AM
10:15 AM
10:15 AM
09:15 AM
Rosebank Road
$0.00
03:00 PM
11:00 AM
03:00 PM
10:15 AM
10:45 AM
Rosedale
$0.00
02:15 PM
10:15 AM
02:15 PM
10:15 AM
10:15 AM
Rothesay Bay
$0.00
02:15 PM
10:15 AM
02:15 PM
10:15 AM
10:15 AM
Royal Heights
$0.00
02:15 PM
10:15 AM
02:15 PM
10:15 AM
10:15 AM
Royal Oak
$0.00
02:15 PM
10:15 AM
02:15 PM
10:15 AM
10:15 AM
Sandringham
$0.00
02:15 PM
10:15 AM
02:15 PM
10:15 AM
10:15 AM
Scenic Drive
$0.00
10:15 AM
10:15 AM
10:15 AM
10:15 AM
09:15 AM
Schnapper Rock
$0.00
02:15 PM
10:15 AM
02:15 PM
10:15 AM
10:15 AM
Silverdale
$25.00
10:15 AM
10:15 AM
10:15 AM
10:15 AM
09:15 AM
South Auckland
$0.00
02:15 PM
10:15 AM
02:15 PM
10:15 AM
10:15 AM
Southdown
$0.00
02:15 PM
10:15 AM
02:15 PM
10:15 AM
10:15 AM
Southern Cross Hospital Brightside
$0.00
02:15 PM
10:15 AM
02:15 PM
10:15 AM
10:15 AM
Southern Cross Hospital Gillies
$0.00
02:15 PM
10:15 AM
02:15 PM
10:15 AM
10:15 AM
Southern Cross Hospital North Shore
$0.00
02:15 PM
10:15 AM
02:15 PM
10:15 AM
10:15 AM
St Heliers
$0.00
02:15 PM
10:15 AM
02:15 PM
10:15 AM
10:15 AM
St Johns
$0.00
02:15 PM
10:15 AM
02:15 PM
10:15 AM
10:15 AM
St Lukes
$0.00
02:15 PM
10:15 AM
02:15 PM
10:15 AM
10:15 AM
St Marys Bay
$0.00
02:15 PM
10:15 AM
02:15 PM
10:15 AM
10:15 AM
Stanley Point
$0.00
02:15 PM
10:15 AM
02:15 PM
10:15 AM
10:15 AM
Stanmore Bay
$25.00
10:15 AM
10:15 AM
10:15 AM
10:15 AM
09:15 AM
Starship Hospital
$0.00
02:15 PM
10:15 AM
02:15 PM
10:15 AM
10:15 AM
Stillwater
$25.00
10:15 AM
10:15 AM
10:15 AM
10:15 AM
09:15 AM
Stonefields
$0.00
02:15 PM
10:15 AM
02:15 PM
10:15 AM
10:15 AM
Sunnyhills
$0.00
02:15 PM
10:15 AM
02:15 PM
10:15 AM
10:15 AM
Sunnynook
$0.00
02:15 PM
10:15 AM
02:15 PM
10:15 AM
10:15 AM
Sunnyvale
$0.00
03:00 PM
11:00 AM
03:00 PM
10:15 AM
10:45 AM
Swanson
$0.00
02:15 PM
10:15 AM
02:15 PM
10:15 AM
10:15 AM
Swanson Rural
$0.00
10:15 AM
10:15 AM
10:15 AM
10:15 AM
09:15 AM
Sylvia Park
$0.00
02:15 PM
10:15 AM
02:15 PM
10:15 AM
10:15 AM
Takanini
$0.00
02:15 PM
10:15 AM
02:15 PM
10:15 AM
10:15 AM
Takapuna
$0.00
02:15 PM
10:15 AM
02:15 PM
10:15 AM
10:15 AM
Tamaki
$0.00
02:15 PM
10:15 AM
02:15 PM
10:15 AM
10:15 AM
Taupaki
$0.00
10:15 AM
10:15 AM
10:15 AM
10:15 AM
09:15 AM
Taupaki
$15.00
10:15 AM
10:15 AM
10:15 AM
10:15 AM
09:15 AM
Te Atatu
$0.00
03:00 PM
11:00 AM
03:00 PM
10:15 AM
10:45 AM
Te Atatu Peninsula
$0.00
03:00 PM
11:00 AM
03:00 PM
10:15 AM
10:45 AM
Te Atatu South
$0.00
03:00 PM
11:00 AM
03:00 PM
10:15 AM
10:45 AM
Te Papapa
$0.00
02:15 PM
10:15 AM
02:15 PM
10:15 AM
10:15 AM
The Gardens
$0.00
02:15 PM
10:15 AM
02:15 PM
10:15 AM
10:15 AM
Three Kings
$0.00
02:15 PM
10:15 AM
02:15 PM
10:15 AM
10:15 AM
Titirangi
$0.00
03:00 PM
11:00 AM
03:00 PM
10:15 AM
10:45 AM
Titirangi past the Village
$0.00
10:15 AM
10:15 AM
10:15 AM
10:15 AM
09:15 AM
Torbay
$0.00
02:15 PM
10:15 AM
02:15 PM
10:15 AM
10:15 AM
Totara Heights
$0.00
02:15 PM
10:15 AM
02:15 PM
10:15 AM
10:15 AM
Totara Park
$0.00
02:15 PM
10:15 AM
02:15 PM
10:15 AM
10:15 AM
Totara Vale
$0.00
02:15 PM
10:15 AM
02:15 PM
10:15 AM
10:15 AM
Tuakau
$30.00
10:15 AM
10:15 AM
10:15 AM
10:15 AM
09:15 AM
Unsworth Heights
$0.00
02:15 PM
10:15 AM
02:15 PM
10:15 AM
10:15 AM
Waiatarua
$0.00
10:15 AM
10:15 AM
10:15 AM
10:15 AM
09:15 AM
Waiau Pa
$30.00
10:15 AM
10:15 AM
10:15 AM
10:15 AM
09:15 AM
Waikowhai
$0.00
02:15 PM
10:15 AM
02:15 PM
10:15 AM
10:15 AM
Waima
$0.00
10:15 AM
10:15 AM
10:15 AM
10:15 AM
09:15 AM
Waimauku
$15.00
10:15 AM
10:15 AM
10:15 AM
10:15 AM
09:15 AM
Waitakere Hospital
$0.00
03:00 PM
11:00 AM
03:00 PM
10:15 AM
10:45 AM
Waitakere Village
$0.00
10:15 AM
10:15 AM
10:15 AM
10:15 AM
09:15 AM
Waiuku
$30.00
10:15 AM
10:15 AM
10:15 AM
10:15 AM
09:15 AM
Waterview
$0.00
02:15 PM
10:15 AM
02:15 PM
10:15 AM
10:15 AM
Wattle Downs
$0.00
02:15 PM
10:15 AM
02:15 PM
10:15 AM
10:15 AM
Wesley
$0.00
02:15 PM
10:15 AM
02:15 PM
10:15 AM
10:15 AM
West Auckland
$0.00
03:00 PM
11:00 AM
03:00 PM
10:15 AM
10:45 AM
West Harbour
$0.00
02:15 PM
10:15 AM
02:15 PM
10:15 AM
10:15 AM
Western Heights
$0.00
03:00 PM
11:00 AM
03:00 PM
10:15 AM
10:45 AM
Western Springs
$0.00
02:15 PM
10:15 AM
02:15 PM
10:15 AM
10:15 AM
Westgate
$0.00
02:15 PM
10:15 AM
02:15 PM
10:15 AM
10:15 AM
Westmere
$0.00
02:15 PM
10:15 AM
02:15 PM
10:15 AM
10:15 AM
Weymouth
$0.00
02:15 PM
10:15 AM
02:15 PM
10:15 AM
10:15 AM
Whangaparaoa
$25.00
10:15 AM
10:15 AM
10:15 AM
10:15 AM
09:15 AM
Whenuapai
$0.00
10:15 AM
10:15 AM
10:15 AM
10:15 AM
09:15 AM
Whitford
$15.00
10:15 AM
10:15 AM
10:15 AM
10:15 AM
09:15 AM
Wiri
$0.00
02:15 PM
10:15 AM
02:15 PM
10:15 AM
10:15 AM
Wood Bay
$0.00
10:15 AM
10:15 AM
10:15 AM
10:15 AM
09:15 AM
Woodhill
$15.00
10:15 AM
10:15 AM
10:15 AM
10:15 AM
09:15 AM
Woodlands Park
$0.00
10:15 AM
10:15 AM
10:15 AM
10:15 AM
09:15 AM