10 Last Minute Christmas Gift Ideas for Family, Friends or Employees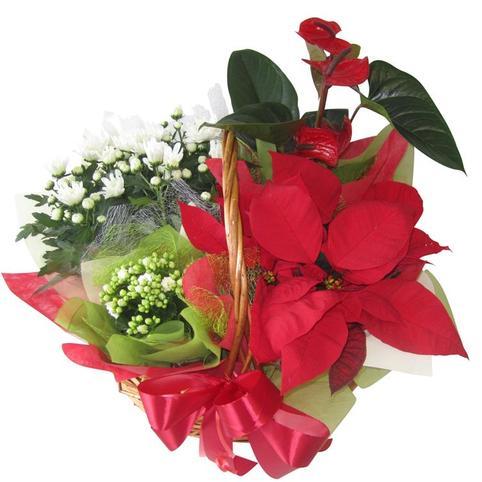 Whether you've simply left your Christmas shopping too late, or you're worried that courier delays will mean your Christmas gifts don't arrive on time, rest assured there's an easy fix. Here at Best Blooms, we use our own courier, meaning orders won t be subject to postal system delays.
Better still, we can assemble, package and deliver Christmas gift baskets throughout the Auckland region on the same day you order*, so gifts really can be organised at the last possible minute.
If you're not sure what to buy someone this Christmas, or you need some inspiration for a last-minute Christmas gift, check out our top 10 Christmas gift boxes below.
1. For the chocolate lover: NZ Chocolate Kete Gift Basket
Everyone knows someone who can't get enough chocolate. Spoil the chocolate lover in your life this Christmas with a selection of boutique, gourmet chocolates from some of New Zealands' leading small chocolatiers.
This Christmas gift hamper is packed in a beautiful flax kete lidded basket to celebrate the locality of these wonderful chocolate makers and give a stylish Kiwiana finish. In 2022, shopping local is more important than ever, and you can help your chocolate-loving friend or family member fall in love with local chocolate makers with this smorgasbord of treats.
The NZ Chocolate Kete Gift Basket includes:
Bennetts of Mangawhai box of 6 truffles
House of Chocolate Fruit Sensations
Bennetts of Mangawhai Feijoa Chocolate Bar
Bennetts of Mangawhai Lemon Chocolate Bar
Bennetts of Mangawhai Dark Chocolate Bar
Bennetts of Mangawhai Amber Chocolate Bar
Chocolate Salted Almond Brittle from Kapiti Candy
Donovans Mint Chocolate Clusters
Donovans Coconut Chocolate Clusters
Packaged in a Flax Kete Lidded Basket with fern decorations and paua shell ribbon for a stylish Kiwiana Icon look.
2. For the bloke of all blokes: The Man Box
No frills here. Just a perfect assortment of snacks for watching the game, plus a couple of bottles of Mac's ginger beer to wash it all down.
Let's face it, buying for men can be pretty hard sometimes. Often it seems like they have everything they want, or they'd rather choose it themselves. Vouchers are alright sometimes, but when you want to give someone something a little bit more meaningful, a gift hamper is a great way to spoil a bloke in your life. The Man Box does exactly that but without any of the frills or flowers that a man's man might disagree with.
The Man Box includes:
Salted Caramel Popcorn from Herb and Spice Mill
Bennetts of Mangawhai Chocolate Bar
2 bottles Macs Ginger Beer
Kalamata Olives
Bombay Mix
Black Pepper Peanuts
2 x Jack Links Beef jerky sticks
Molly Woppy cheese Sticks
3. For the busy bee: Relaxation Pamper Hamper
Let's face it: It's been a bit of a hectic year. And some of us have shouldered the burden a bit more than others. Tell someone you love that it's okay to take a break with the Relaxation Pamper Hamper.
This is a perfect gift hamper for the solo mum, the working woman, or just anyone who has been run off their feet these last few months. The Relaxation Pamper Hamper is full of wonderful smelling goodies, beauty products and sweet treats, topped off with a gorgeous delicate bouquet. When words can't express how much you appreciate someone's hard work, this gift hamper says it all for you.
The Relaxation Pamper Hamper includes:
Scullys Lavender Gift Box inc Hand Cream, Luxury Soap, Bath & Body Wash
Fizzing Bath Bomb
Just Because Candle Tin
1x Bennetts of Mangawhai Feijoa Chocolate
1x Bennetts of Mangawhai Lemon Chocolate
Fresh Flower Posy Box Arrangement in soft whites, limes and creams
Keepsake Butterfly
4. For the new (or not so new) girlfriend: Berry Bliss Gift Package
Say "I love you" and "Merry Christmas" all at once with this dazzling berry-themed Christmas gift hamper. Bursting with bright pinks and purples, this girly gift box has a little bit of everything to express all the different ways you love your special someone.
On top of the gorgeous bouquet, this Christmas gift basket includes a selection of sweet treats including chocolates and adult popcorn, plus some longer-lasting pamper gifts like a scented candle and a shower steamer (a bit like a bath bomb, but for the shower!).
The Berry Bliss Gift Package includes:
Berry Bliss Floral Handbag
Raspberry Vanilla Shower Steamer
Redcurrant & Yuzu Candle Tin
Chocolate Nuts (Chocolate Nuts will vary subject to availability)
Bennetts of Mangawhai Blueberry Chocolate
Bennetts of Mangawhai Passionfruit Chocolate
Dr Bugs Berry Sorbet Popcorn for Grown-Ups
5. For the sweet tooth (or the kids!): Choccie Potz
If you need a quick way to earn some points with your nieces and nephews, or you know someone who just loves sweets without any fuss, you can't go wrong with Choccie Potz.
Cheekily presented as a boxed bouquet, Choccie Potz is an edible arrangement of chocolate bars and solid chocolate hearts. It's a wonderful tongue-in-cheek gift for someone who might not like a standard floral arrangement, but who absolutely adores lollies!
The Choccie Potz includes:
Fresh greenery
Fresh leucadendron Blooms (or similar)
3 x Single Chocolate Bars
3 x Donovans Solid Chocolate Hearts
10 x Assorted Mini Chocolate treats
Beautifully arranged in a gift Box
6. For the houseplant lover: Christmas Deluxe Planter Basket
House plants are all the rage right now! Lockdown has led many people to investing in houseplants, as the quiet care and maintenance is a wonderful meditative activity that actually improves your living space at the same time. That's a huge benefit when you're home a lot of the time.
But even with lockdowns ending, houseplant love is standing strong. If you know someone who loves to fill their home with living plants, why not surprise them this Christmas with not one but four living potted plants!
The Christmas Deluxe Planter Basket includes:
1x Anthurium
1x Poinsettia
1x Chrysanthemum
1x Kalanchoe
Presented in a wicker basket with festive trims
7. For that person you just don't really know: Sweet & Savoury Snack Basket
We've all been in a similar position. Maybe you just found out a relative is finally going to come to family Christmas since the border is closed. Or maybe you got stuck with a work Secret Santa you really didn't want. Sometimes we end up in a position where we need to sort out a gift for someone we just don't know that well.
When it comes to that, you can usually get away with a good assortment of food. The Sweet & Savoury Snack Basket has a great mix of unpretentious snacks, so it doesn't matter if your recipient isn't much of a foodie. Plus, there's an assortment of sweet and savoury bits and bobs so there's no worrying that they might not be a sweet tooth either.
The Sweet and Savoury Snack Box is stylishly packed in a jute basket with black and white striped paper, and includes:
1 x Black Pepper peanuts
1 x Bennetts Chocolate Bar
1 x Donovans Chocolate Clusters
1 x Sneaky Snacks Bhuja mix
1 x Salted Caramel Pretzels
1 x Molly Woppy cheese sticks
1 x Pepper and Cheese Shortbread bites
8. For the high-brow foodie: Truly Scrumptious Gift Basket
Some people need a little bit extra in order to be impressed. That's what the Truly Scrumptious Gift Basket is all about. If you're not sure what to get someone, but you know they're a foodie with adventurous tastes, you can rely on this Christmas gift hamper to be a surefire pleaser.
The Truly Scrumptious Gift Basket has a wonderful assortment of treats, some that you might expect and some that might earn a few "oohs" and "aahs". There's a great range of different products to keep your foodie friend happy through the holidays — you can't go wrong.
The Truly Scrumptious Gift Basket includes:
1 x Belgian Drinking Chocolate
1 x Luxury Potato Chips
2 x Assorted Dip Sachets
1 x Mother Earth Pretzels
1 x Salted Butternut Crunch from Kapiti Candy Co.
1 x Chocolate Brownie
1 x Bombay Mix Sneaky Snacks
1 x Chocolate Macadamias
1 x Cheese Stix Molly Woppy
1 x Strawberry Cocoa cup
1 x Olives
1 x Salted Caramel Popcorn
1 x Nuttz Wood Smoked Almond
1 x Nuttz French Vanilla Almond
1 x Nuttz Morrocan Cashew nuts
1 x Stylish Jute Hamper
9. For the whole family: Family Gift Box
If, for whatever reason, you can't be there for Christmas this year, tell your family how much you love and miss them with the Family Gift Box.
Loaded with family favourites, this Christmas gift hamper has something for mum & dad, as well as plenty of goodies for the kids. Send the Family Gift Box to your whanau in Auckland to let them know you wish you could be there with them.
The Family Gift Box includes:
2 x 150g Donovans Chocolates
1 x Pineapple Lumps Lollies
1 x Mother Earth Pretzels
1 x Black Pepper Peanuts
1 x Luxury Potato Chips
1 x Salty Caramel Popcorn
1 x Packets Popular Chocolate Biscuits
1 x Aniseed Sparkles Lollies
6 x Mini Chocolate Treats
10. For the Christmas Day host: Christmas Table Arrangement
For that person in your life who is always hosting events at home — including Christmas lunch — take the opportunity to brighten their holidays with this stunning Christmas Table Arrangement from Best Blooms.
As a gorgeous centrepiece for the Christmas lunch table, this arrangement of seasonal flowers sets the tone for a lovely Kiwi holiday. It's easy to care for, and once the flowers are done your recipient can keep the ceramic pot for future bouquets. To add a little extra something for the host, don't forget to add on some Bennetts Chocolate Truffles!
The Christmas Table Arrangement includes:
A lovely table arrangement of fresh Christmas flowers and keepsake decorations arranged in a white ceramic pot.
Find your last-minute Christmas gifts right here at Best Blooms
With same-day delivery and a 100% money back guarantee, Best Blooms is the number one place to get your last minute Christmas shopping sorted. We have something for everyone, and our ultra quick free delivery throughout the Auckland region means you can stop stressing and start celebrating like it's Christmas.
Order your last minute Christmas gifts online today, or drop us a line to chat about making up an individual custom order gift basket. We'll be happy to help!



More Ideas for Christmas Gifting:

Jo-Ann Moss - Owner Best Blooms Florist & Gifts | 17 December 2021, 01:07 AM