Decorating your home with flowers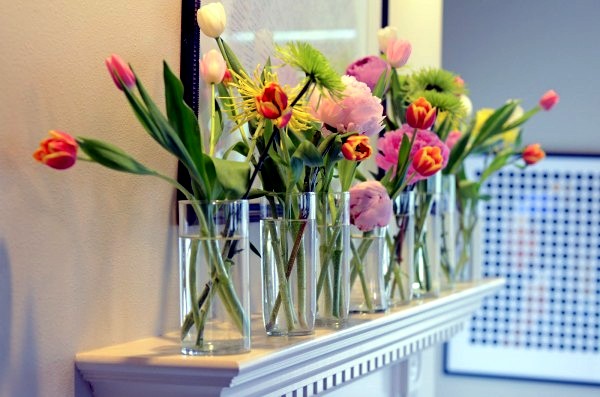 Using floral arrangements around your home, or office, is a great way to bring colour and fragrance to your environment. It's been scientifically proven! A Harvard study in 2006 noted that participants who had placed flowers around their homes in locations where they could be seen on a day-to-day basis experienced a noticeable increase in their mood as well as higher compassion towards other people!
How do you decorate with flowers?
There are so many ways to decorate with flowers – but these are some our favorites:
An unstructured posy of flowers in a vase, with blooms cut from your own flower gardens is unbeatable. Come and see us if your own garden lacks variety or quality and we can provide an alternative.
A wreath of flowers on the front door, over a fireplace or suspended horizontally above a dining table is an interesting way of dressing up a special occasion.
Try your hand at a dining table centerpiece. Give height a key consideration - while tall arrangements are impressive, they can make conversation difficult so a low table-level spread can be ideal. This of course works best if you're not serving from the table as it can be hard to make room for serving dishes and crockery as well as an arrangement.
A single, pretty bloom tied around a napkin is a lovely place setting – another idea is to fold lavender sprigs into a napkin so that the scent is released when the diner opens it.
With the current resurgent trend for indoor plants think about ways your can incorporate flowers with your greenery for to create additional colour and interest. You can use growing habit and climate as a guide to find companion plants that look good together, for example orchids work well with ferns and other shade plants. Lots of summer flowers grown in drier climates will pair well with succulents.
Don't forget that if you are presenting a posy or arrangement to give thought to the vase. The size and weight of the vase needs to be in proportion to the arrangement - that's not just for aesthetics but also to ensure that the arrangement doesn't tip over or cause a hazard. Likewise a vase that doesn't suit the room décor will detract from the flowers themselves. This might relate to both the style of vase, or the colour. If in doubt, a square or cylindrical glass vase is a versatile option that works in most interiors.
Do I need to do anything special to make my arrangement last longer?
These are the tricks to use to make decorating with flowers easier, and more long-lived.
We have a great Blog article on making sure your arrangement lasts as long as possible. Nip over to "10 Tips How to make your Flowers live Longer" to maximise the life of your arrangement.
With fresh flowers, the trick is to condition them to make them last longer. Cut the stems a few inches up the ends, plunge in fresh water with some preservative, and keep in a cool (not cold) room to bring the flowers out without going over.
Choose woody or strong-stemmed blooms for longevity.
Preserved and dried stems will give a framework on which fresh flowers can dry, keeping shape while they age. Dried flowers are 'dried' by removal of water, while preserved flowers are treated with silica or borax to make them long lasting. Preserved flowers keep their shape and color and are slightly more robust than dried.
Cheat! Paper, preserved and dried flowers help to make fresh flower arrangements last longer.
The Easiest Way to Decorate a Home with Flowers
It's OK to cheat every once in a while, and buying a potted plant or a pre-arranged flower bouquet is a great way to warm up your house for an open home, or give to someone celebrating a housewarming. Alternatively, give someone a Cone of Flowers that they can put into their own vase.
Best Blooms can help you with all your floral needs, from floral foam to the flowers and foliage you need to create an awesome display. Come and talk to us at our Store on Rosebank Road, Avondale.
Is it ever okay to decorate with artificial flowers?
It is okay to decorate with fake flowers, but the best method is to combine fresh and fake if you do need to resort to artificial. Artificial flowers have had a bit of a rebirth in popularity recently due to how much more realistic they are compared to fake flowers of old. Go for quality - cheap, fake flowers look awful and are too obviously fake. However, a room only decorated with fake flowers will not look (or smell) nearly as good as one decorated with real flowers – or a combination of real and fake. Consider using fake only for structural benefit, or to replace out of season blooms or foliage that isn't available in your area.


View Our Floral Arrangement Range


Read More: Sustainability & Nature - Eco Flowers
Best Blooms | 11 December 2022, 12:40 AM