The Best Mother's Day Flowers And Gifts In NZ For 2023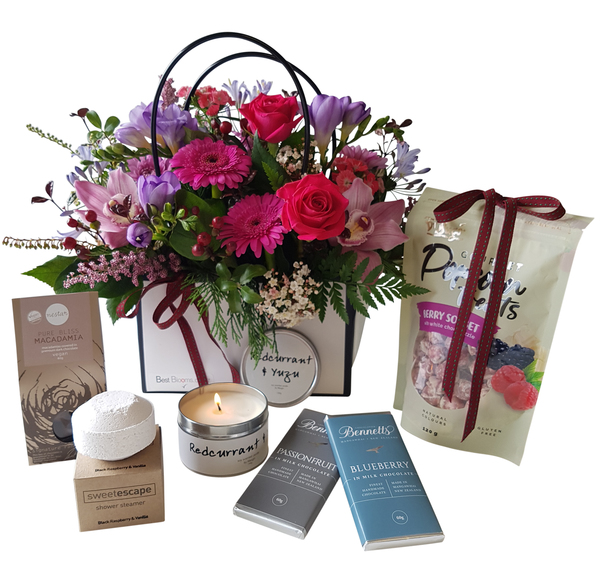 The lovely mums of the Best Blooms team have listed down the best flowers and bouquets for mums, and what gift baskets work best. Read on to see some ideas to spoil your mum with this Mother's Day. Here's our Gift Guide for Mothers Day 2023.
Gift Guide: Ideas to Send Mum for Mothers Day
Mother's Day gives the perfect opportunity to celebrate the amazing work our mums do for us and let them know how much we appreciate them. But it can be hard to find that perfect Mother's Day gift that expresses just how much you love her. Not to mention, that the gift also needs to match the taste of the special lady in your life - whether she's your mum, grandma, aunt, wife or mother-in-law.
Here's where Best Blooms, Auckland's most sought-after local florist can help.
We've asked the lovely mums of the Best Blooms team to list down the best flowers and bouquets for mums and share their motherly wisdom on what gift baskets work best. So, read on to see some ideas to spoil your mum with this Mother's Day.
Contents
Getting flowers delivered on Mother's Day + Free Delivery
Which flowers are in season on Mother's Day
5 Best Mother's Day Flowers and Gifts

The best budget-friendly gift
The best luxe mother's day gift
The best chocolate gift box
The best mother's day gift for your wife or partner
The best gift for gardening mums
Best gift idea for a mothers day gift for Nana

More Mother's Day Gift Ideas
Same Day, Free Delivery on Mother's Day
When is NZ Mother's Day this year?
NZ Mother's Day falls on the 2nd Sunday in May. Sunday, 14th May in 2023.
Best Blooms will be open on Mother's Day to ensure that your mum gets her special gifts delivered on the same day. Best Blooms is an award-winning florist based in Avondale, Auckland. We will be open for both click & collect orders and delivery orders all day on Sunday.
Free Mother's Day Flower Delivery in Auckland
Yes, we deliver for free in most Auckland metro suburbs.
Find out if your suburb is included in the free auckland delivery list here >

Please note: there is a small surcharge of $8.90 for Sunday Delivery (to cover the extra couriers, delivery & logistics, to ensure all our Sunday Mothers Day deliveries get there on time)
What Flowers Are in Season for Mother's Day
When you're looking to buy flowers for Mother's Day keep in mind that your mum's favourite flowers might not be in season right now. For example, peonies are a popular choice for Mother's Day, but in New Zealand, they only bloom during Spring and Summer.
We've listed down seven types of Mother's Day flowers that are currently in season below. Chrysanthemums are a traditional Mother's Day flower as they symbolise loyalty and devotion, and what better example of devoted love is there than a mother's love? They even have the word 'mum' in their name!
Roses
Gerberas
Alstroemeria
Sunflowers
Classic Chrysanthemums.
Find out more flowers in season right now.
The Best Mother's Day Flowers and Gifts In NZ
1. The Best Budget-Friendly Mother's Day Flowers
If you're looking for cheap Mother's Day flowers, then this is one of our most popular affordable gift options for you. At just $79, Mum will receive a flowering cyclamen plant, delicious Rocky Road chocolate clusters from NZ made Donovans Chocolates and a "Mum" Balloon.
Cyclamens are very easy to look after houseplants and are a bulb (actually they are a corm) which means they can flower every year. Perfect to enjoy for a few months inside while flowering and then Mum can plant the cyclamen plant outside to enjoy it year after year.
All our house plants come with specific care instructions, so your mum will know how to tend for her new houseplant.
Want to add a little something extra to this gift? You can add a yummy chocolate heart for $4.90 or a gourmet Bennetts of Mangawhai Chocolate Bar for $7.50. Have something special to say to your mum? How about writing it down in a keepsake gift card valued at $6.90?
If you're looking for more budget-friendly gifts, check out our under $79 range.
2. The Best Mother's Day Gift to Pamper Your Mum
Being a mum is not easy, and most often, mums are so busy taking care of everyone else that finding time to take a bit of a breather to pause and relax is difficult.
So, how about spoiling your mum with the ultimate pamper hamper for some well-deserved self-care time? New for the 2023 range is our special Lemon Meringue themed Gift Box.
A collection of gourmet chocolates, luxury lemon meringue popcorn for grown ups from the famous Dr Bugs, vanilla petite meringues, and fancy body products by luxury skincare brand Tilleys is perfect for a time of self-indulgence.
Here's what this pamper contains,
Bennetts of Mangawhai Lemon Chocolate
Tilleys Vanilla Body Wash
Dr Bugs Gourmet Lemon Meringue Popcorn for Grown Ups
Ginger Biscuits
Donovans Chocolates Hokey Pokey Clusters
Salted Toffee Pretzels
Fresh Floral Box Arrangement in zesty lemon & white flowers.
3. The Best Chocolate Gift Box for Mother's Day
If your mum has a big, sweet tooth, she's gonna love the Mothers Day Gift Basket filled with some of this Mums favourite treats.
What's included in the 2023 Mothers Day Gift Basket:
Bennetts of Mangawhai "Mum" Chocolate (in new hot pink barbie-core packaging!)
1 x Donovans Rocky Road Chocolate Clusters
1 x Kapiti Candy Mixed Fudge
1 x Box of delicious Molly Woppy Passionfruit Shortbread Cookies
1 x Molly Woppy Pink Iced Heart Gingerbread Cookie
1 x Berry Bliss Popcorn from Dr Bugs
1 x Beautifully gift wrapped keepsake artificial orchid for Mum to display in a vase.
These are all presented in our signature Best Blooms black gift box with a stylish gift wrap and ribbon.
4. The Best Mother's Day Gift for Your Wife
A stunning collection of romantic pink roses and scented white lilies to gift to your wife or partner on Mother's Day to show her what a great mum she is!
The Sweetheart bouquet includes six pretty pink roses surrounded by a mixture of open and closed oriental lilies wrapped up in a beautiful pink paper and luxury ribbon. We include flower buds in our arrangements to ensure your bouquet keeps blooming longer.
Want to make your gift even more special? Add a lovely keepsake wooden heart with the words "With Love" for $8.90 and a decadent bunch of Chocolate Flowers for Mum for $24.90.
5. Best Mother's Day Gift for Your Gardening Mum
The perfect Mother's Day gift for mums with green thumbs! The Flower Gardening Gift Box gives Mum fresh cut flowers to enjoy now and flowers to plant for later. If she loves to garden, then Mum will love this.
Included is the Flora Cut Flower Kit which includes seeds to grow summer blooming cosmos, fragrant sweet peas and striking zinnia flowers, biodegradable seed raising pots and potting mix and a dried flower craft activity.

This gift pack also includes Aroma botanical Bergamot hand cream to help take care of mums hands after gardening. Then there are the curated matching special NZ made treats for her to enjoy. The Cookie Co Cranberry & Almond cookies, Gather and Graze caramel popcorn, Three Little Birds salted chocolate caramels and Coconut Rough chocolates.
Finally included in this garden themed gift box is a lovely fresh flower posy of red and pink roses, and country blooms arranged in the prettiest etched glass vase.
6. My Best idea for a Mothers Day gift for Nana
What's a good gift to send Nana for Mothers Day?
I love this beautiful Mum's garden rose handbag arrangement. With an assorted mixture of fresh cut roses in lovely colours, arranged in a cute handbag, this is finished with a wooden "Mum" heart.
Made from local floral artist Christina Maasen, Nana will hang this keepsake wooden heart somewhere special to remind her of your thoughtful mothers day gift.
Whether you have a Nana, Grandma, or a Maw maw, grandmothers always love receiving a delivery from you to make them feel special on Mothers Day.
Go here to our special gift ordering section, devoted to Grandparents Gifts >

Tulips for Oma
Send a colourful bouquet of fresh tulips for Oma, together with Chocolate Hearts. (and for those that don't know - Oma is Grandmother in Dutch - hence the love of Tulips!)
View here >
Shop More Mother's Day Flowers and Gifts
We've got more wonderful flowers and gifts lined up for Mother's Day including the fabulous NZ Chocolate Kete Basket with its artisanal chocolates, the Sweet Treats Box with its sweet and savoury goodies and much, much more!
And don't forget, all our gorgeous Mother's Day flowers and gifts come with FREE delivery to Auckland Metro areas!



Flower Ideas for Mothers Day:

Jo-Ann Moss - Senior Florist | 04 March 2023, 12:20 AM