Top 5 Spring and Summer Flowers in NZ
What are Your Favourite Spring & Summer Flowers? Here are our Top 5 most popular seasonal blooms. Sunny days are here and we want to celebrate with the most beautiful flowers in season! So, here s a lovely bunch of the top five spring and summer flowers in New Zealand.
Roses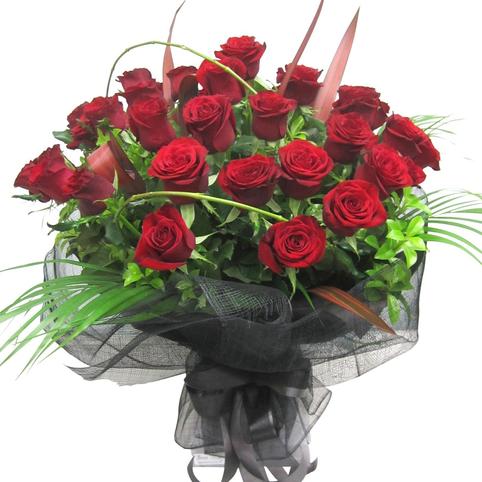 Crowned as New Zealand's favourite flower, roses are one of our all-time best sellers. If you're wondering when roses bloom in NZ, you'll be happy to learn that they bloom in spring, summer and all year round!
These majestic blooms come in a variety of colours and each colour has a special significance. So, if you are gifting a bouquet of roses to someone, it's important to know what each colour means.
Red roses: The epitome of love, red roses are gifted on Valentines Day, first dates, anniversaries or wherever you want to say "I love you".
Pink roses: While pink roses are also associated with romance, they represent more of a gentle admiration overall than the passionate red rose. Meanwhile, the bright pink Fuschia colored rose is used to convey appreciation and gratitude making them excellent 'thank you' flowers or a gift to someone celebrating a graduation or a birthday.
Peach Roses: Symbolising sincerity and gratitude, peach roses are great for saying 'thank you.'
Yellow roses: At first, yellow roses had a bit of a bad rep when they were associated with jealousy and infidelity during Victorian times! Thankfully though their reputation has bloomed into something much more positive to signify friendship, caring and joy.
White Roses: Signifying purity and innocence, white roses are used a lot in weddings that they have earned the name of 'Bride's Flowers'. However, white roses can be used in funerals or gifted to convey sympathy because they also represent reverence.
Orange Roses: Reminiscent of glorious summer sunsets, orange roses represent excitement, passion, pride and gratitude making them ideal gifts for birthdays, graduations and whenever you want to appreciate someone in your life.
Click to see our stunning range of rose bouquets that come in a variety of colours and gift boxes.
Peonies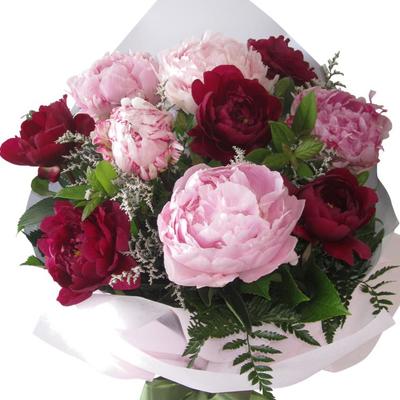 Described by Marco Polo as "roses as big as cabbages" peonies can grow as big as 10 inches depending on the variety! They emanate a soft floral note that can create an uplifting and calm presence in your home.
Peonies bloom in NZ from October to December and symbolise good luck, prosperity and honour, which makes them a perfect gift for someone celebrating the birth of a child, a wedding, engagement or an academic achievement.
Checkout our stunning Peony Surprise bouquet that features a half a dozen assorted red, pink and white charm peonies, and a FREE Baileys chocolate tablet!
SHOP THE PEONY SURPRISE BOUQUET
Lily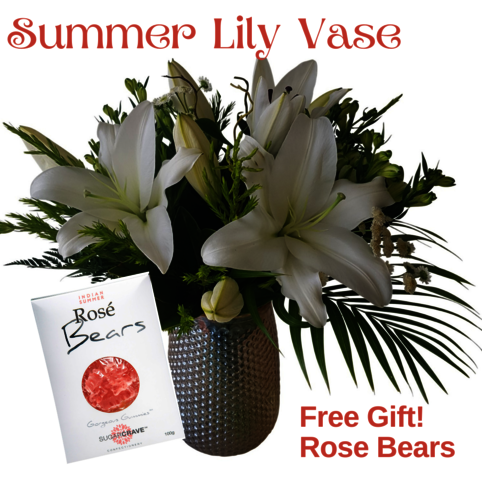 At Best Blooms, New Zealand's favourite flower delivery service, we have quite a few options for lilies available in spring and summer.
Calla Lilies (white and purple)
Calla Lily Childsiana (white)
Lillium Asiatic (white and other colours)
Lillium Casablanca (white)
Lillium Longiflorum (white)
Lillium Stargazer (also known as pink lillies)
Lillium Valotta (scarlet)
Lilies make beautiful and thoughtful gifts for a variety of occasions such as the arrival of a new baby, a housewarming party or a birthday. White lilies like Lilium Asiatic and Longiflorum to name a few, are commonly used in weddings and funerals as they represent purity and rebirth.
With the right care, lilies can last up to two weeks in a vase. So, if you receive a bouquet of these elegant blooms, make sure to remove any leaves that fall below the waterline. Place the vase in a place where there is no direct sunlight or drafts. While the anthers of a lily (the linear part that carries reddish-brown pollen) add more beauty to the flower, some people tend to clip them off as they can stain the tablecloth or furniture when they fall on to it.
Gerbera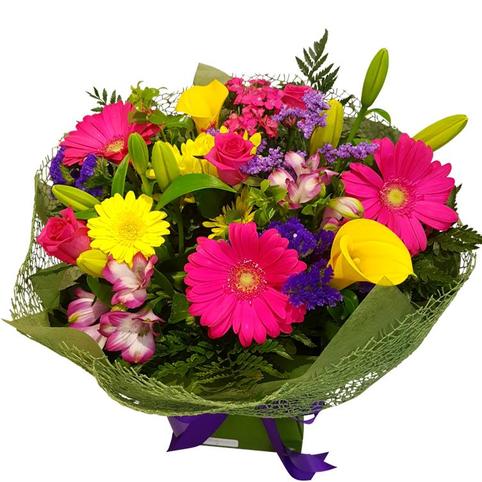 A stunning type of daisy, gerberas are available all year round, so you can easily order them in spring and summer. They come in a lovely range of colours from pink to lavender, yellow, white, salmon, red and even bicoloured!
Gerbera have more than just a pretty face; their ability to remove chemicals like benzene, formaldehyde and trichloroethylene, make them one of the best air-purifying plants. If you receive a bouquet of gerbera, consider placing them on your bedside table as they continue to release fresh oxygen throughout the night.
Sunflowers
Nothing says sunny summer than sunflowers! Representing joy, good luck, good fortune and strong bonds between friends and family, sunflowers are a great housewarming present or a gift to a friend who needs a bit of cheering up.
Best Blooms' Sunshine & Happiness Bouquet features a brilliant bunch of sunflowers complemented by yellow lilies, alstroemeria and a wonderful "Little Book of Happiness"!
You can shop for more summer flowers from hydrangeas to dahlias, delphiniums, and more at Best Blooms, and don't forget, all our lovely bouquets and gift boxes come with free delivery!


More Information on Seasonal NZ Flowers:
Jo Ann | 10 November 2021, 12:32 AM