Latest Feedback
They look great! Thanks so much
Anusha
(22 Oct 2021)

Read more testimonials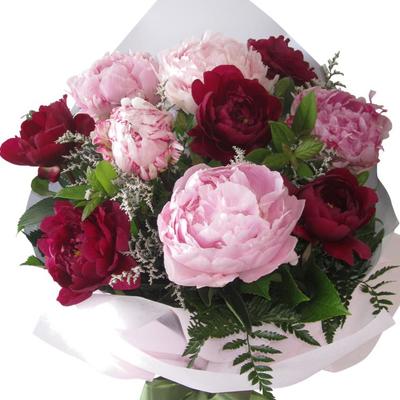 Peonies
Peonies - Peony Roses - Paeonia

No matter what you call them - The Peony is a stunning lush gorgeous Bloom and Very Special! An absolute favourite flower for many due to their short season, their light delicate scent and of course those AMAZING full lush frilly Blooms! You can have Peonies delivered Auckland wide.
When are Peonies in Season in New Zealand?
Peonies are in Season in New Zealand from the beginning of October till December during our Spring. In early October the lovely warm Coral Peonies start to Bloom. As the season progresses the colours available change due to the different flowering times of the many peony varieties and colours.
What colours do Peonies come in?
This really does depend on the time in the season - each plant has a unique flowering time - this is part of the charm of peony flowers. In the early season there are only Coral Peonies, then the soft pinks come into bloom, then we start getting the crimson and Red Charm Peonies and finally white Peonies.
If you are wanting particular colour Peony for your delivery then please do call us to discuss what we have in fresh from the grower and available for delivery today. We only stock New Zealand grown peonies - most of them are grown in the South Island as they do need frost and cold temperatures to bloom. (perhaps this is why they are so special??)
For same day delivery in Auckland - Order Business addresses before 10.15am, Home address cut off is 2.15pm and of course you can specify any future date for delivery. Saturday same-day delivery order by 10am.
Peonies are available in Auckland New Zealand from early October to early December - Ahh Gorgeous! Don't Miss out - book in your flower delivery!

Free Delivery in Auckland.



Peonie Roses Auckland New Zealand
In Season in October - December!