Do Flowers have a Meaning?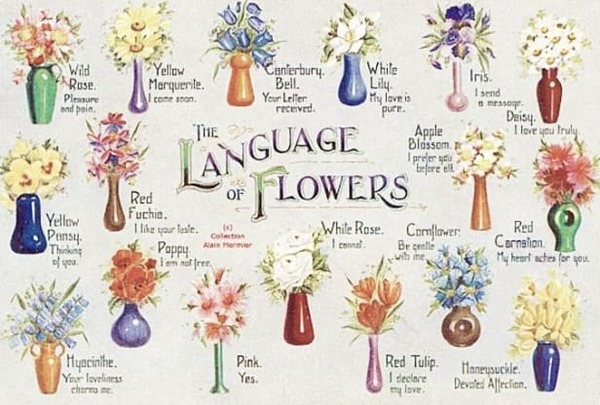 The Meaning of Flowers - What does that flower mean? Victorian secret language of flowers, used to convey secret messages between lovers, all with the coded flowers they used in their symbolic tussie-mussie flower posies. Very romantic!
The Meaning of Flowers
Popular Flowers and their Significance...
The symbol of flowers as a "messenger of the heart" became hugely popular in the nineteenth century, when people dreamt of the age of courtly love and faithfulness that made use of the sentimental Victorian "Language of Flowers".

They used sweet smelling Tussie Mussies (miniature garden posies) carefully crafted and designed posies of fresh picked florals - with each bloom holding their own coded meaning, full of symbolism.
What does that Flower mean?
Flowers and their meanings - This nostalgic tradition has been revived today, with both the wedding of the Duke and Duchess of Cambridge with William and Kate choosing to bring personal touches, to their own Royal Wedding, by using the meaning of flowers as symbols to tell part of their story. Then in the marriage of Harry and Meghan becoming the Duke and Duchess of Sussex, again they used traditional blooms to share a secret story. Unique choices of blooms to tell their royal tales.

The recent funeral of the Queen has just shown us how poignant and thoughtful it can be to include flowers with meaning. The wreath used on the top of her casket was from hand-picked flowers from some of the royal homes Buckingham Palace, Highgrove and Clarence House.

The Queens wreath contains myrtle, the ancient symbol of a happy marriage, cut from a plant that was grown from a sprig of myrtle in the Queen's wedding bouquet in 1947.
I love this - what a powerful and emotional inclusion of a special flower with real meaning.

Her wreath also contained rosemary as a symbol of remembrance and English oak, a national symbol of strength, in a nod to the Queen's constancy and steadfast duty. Other flowers used includes pelargoniums, garden roses, autumnal hydrangea, sedum, dahlias, and scabious.
It was also made sustainably using no plastic or floral foam.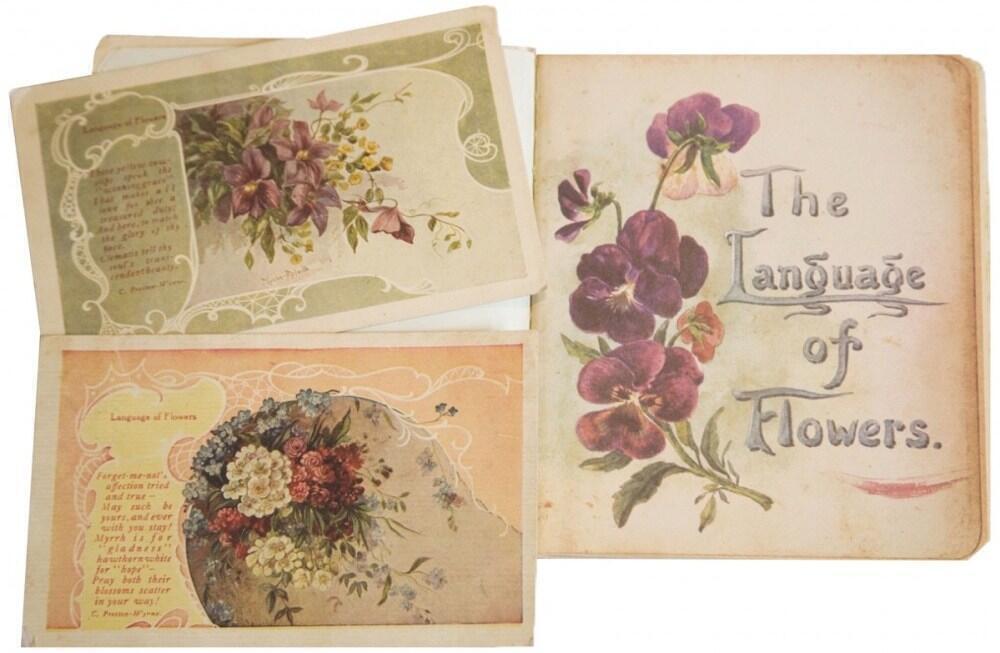 Victorian Language of Flowers

The Victorian Language of Flowers was born from a need to communicate powerful emotions such as; love, hate and rejection.. Expressing these emotions verbally was widely frowned upon and not readily permitted, in a society governed by strict social rules, where courtship always had a chaperone, and there were rules to be followed.

In such a prim and proper society, suppressed human emotions became extremely motivating. Young couples hoping to court, looked cleverly for ways to overcome such stifling restrictions. How romantic to use flowers to share their deepest desires! Of course it won't surprise you to learn that the beautiful Rose has always meant Love and Romance!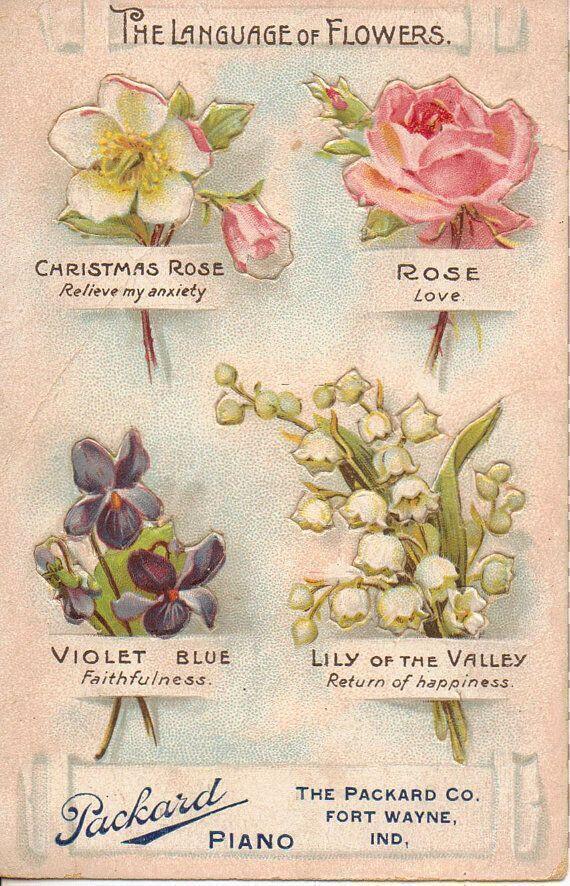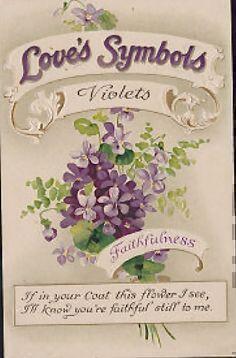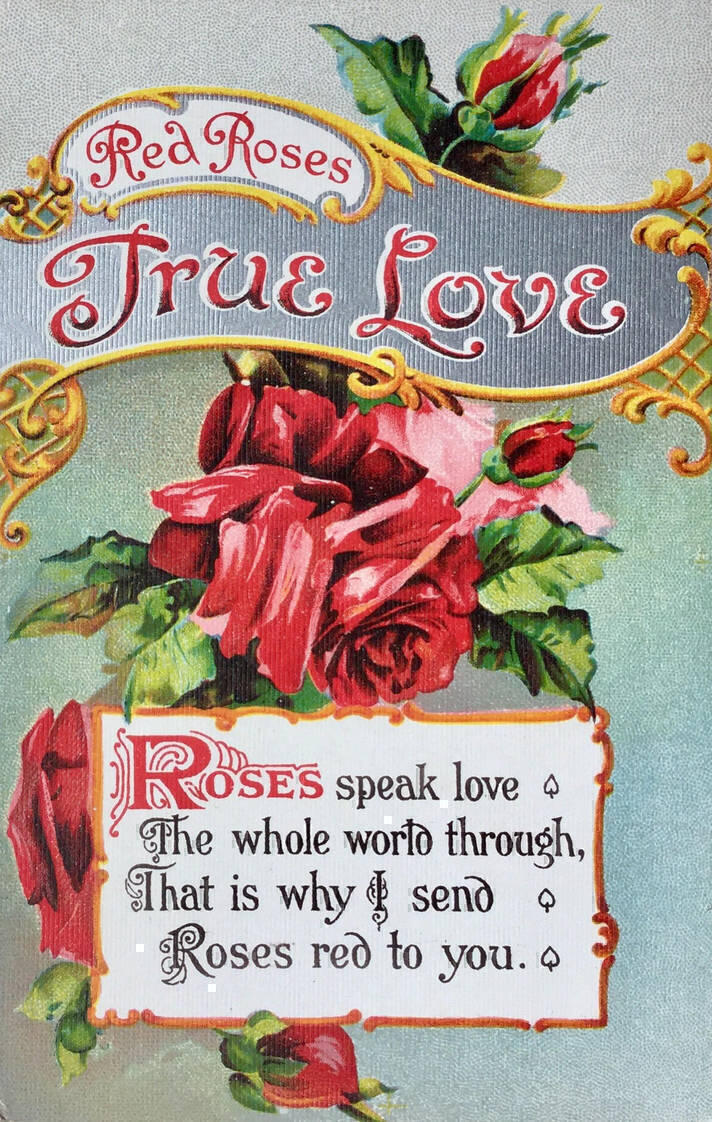 Secret Messages using the Language of Flowers
Cunningly, a system of "Floriography" was devised in which secret messages could be passed from one person to another, using the meaning of flowers. Messages of love, rejection and hate would pass through the social ranks daily and create great joy or heartbreak for the recipient, based on what blooms were included in their nosegay gifted by a beau, whether the flower was included in bud form or open, and even what colour the bouquet came in.

Meaning was attached to the way the blooms were facing - or even if they were included upside down. Truly the amount of effort and detail is quite awe inspiring.

The Victorian Language of Flowers became so widely used, that books explaining language etiquette date back from as early as 1818. As a child I was always fascinated by the beautiful imagery in Victorian books, Flower Fairies, vintage greeting cards, postcards and other vintage artwork using flowers.

Today, there are many romantic suitors who do consider the meaning of flowers when choosing their bouquet, both as a unique gifting gesture and as a romantic nod towards tradition.

Upon researching this fun topic, you will come across many meanings attributed to each flower and colour, this can depend on the era in which the particular list was curated, the author, and also of course which hemisphere, so in some ways consider the meaning of flowers fun and whimsical and perhaps not take it too seriously.
Read more here about the meaning of Roses - by colour. > A more modern day interpretation.
Common Flowers and their Meanings: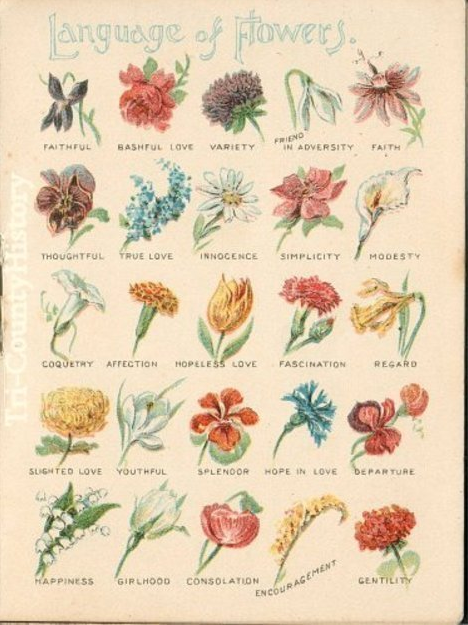 Alstromeria - Wealth, prosperity, fortune
Amaryllis - Pride Anemone Forsaken
Anthurium - Lover
Baby's Breath / Gypsophila - Innocence, Pure of Heart
Bells Of Ireland - Good Luck
Bouvardia - Enthusiasm
Calla Lily - Magnificent Beauty
Camellia - Gratitude
Carnations - General Fascination
Carnations Pink - Woman's Love / I'll never forget you
Carnations Red - Admiration, Fascination
Carnations White - Ardent love, good luck
Chrysanthemums - Cheerfulness
Daffodil - Regard
Fern - Sincerity
Freesia - Thoughtfulness
Gardenia - You're Lovely
Gerberas - Simple beauty of a happy life
Gladioli - Strength of Character
Honeysuckle - Bonds of love
Hyacinth - Constancy of love
Hydrangea - Thank you for understanding
Iris - Wisdom
Ivy - Fidelity, marriage, friendship and affection
Jasmine - Amiability
Jonquil (Daffodil) - Sympathy
Larkspur - Fickleness
Lavender - Devotion
Lilac - Youthful / Humility
Lily - Majesty
Lily white - Purity and modesty
Lily Yellow - I'm walking on air
Lily of the Valley - Return of happiness
Magnolia - Dignity / love of nature
Narcissus - Egotism
Orange Blossom - Purity
Orchid - Rare Beauty / love
Paeony Rose, (Peonie rose) - Bashfulness
Poppy - Eternal sleep
Queen Anne's Lace - Haven
Ranunculus - You are radiant with charm
Rose - Love
Rose, red - Love, passion, respect, courage
Rose, white - Innocence, purity, secrecy
Rose, yellow - Joy, friendship
Rose, light pink - Grace, gladness, joy
Rose, dark pink - Thankfulness
Rose, red and white combined - Unity
Rose, orange - Fascination
Rose Peach - Desire
Rosebud - Pure and lovely
Rosemary - Remembrance
Statice - Sympathy, remembrance
Stephanotis - Happiness in Marriage
Stock - Lasting beauty
Sunflower - Adoration
Sweet Pea - Lasting pleasure
Sweet William - Gallantry
Tuberose - Dangerous pleasure
Tulips - Perfect lover
Tulip Red - Believe me
Tulip Variegated - Beautiful eyes
Tulip Yellow - Hopeless love
Violet - Faithfulness, Modesty
Water Lily - Purity of heart
Wheat - Earnestness
Zinnia - Thoughts of Absent friends




Learn More about The Nostalgic Traditions of Flowers:
Jo-Ann Moss - Senior Florist | 07 October 2023, 11:21 PM