From Humble Beginnings - How our Florist Shop Blossomed and Grew
New Logo! New Website! But It's Still Us! - How Best Blooms Florist has grown and grown from humble beginnings... This is our Story, of how a small local flower shop, blossomed into one of the busiest Online Florists in Auckland ...
BEST BLOOMS FLORIST
From very Humble Beginnings
2022 - Welcome to our exciting NEW LOOK!
New Brand.
New Style.
Fabulous New Website.

Yes, it's still the same family business, with owners Jo-Ann Moss and Philip Selwyn, supported by our fabulous team of florists.

Yes it's still us - but WOW - what a new Glow UP!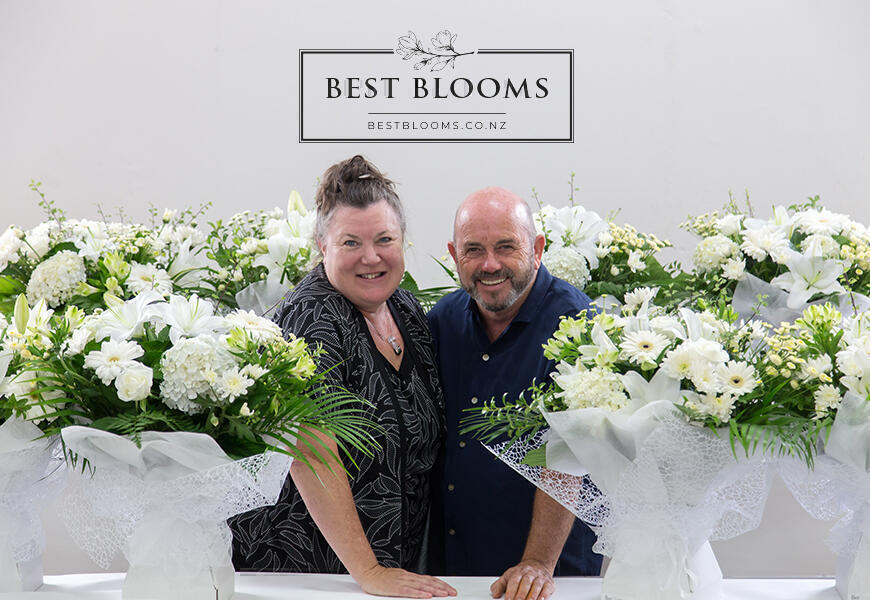 Jo-Ann Moss and Philip Selwyn - Owners Best Blooms

I thought you might like to know a bit more of our story, which like all good stories, starts from very humble beginnings.

In 2006, Philip and I returned from living in England with a brand new baby - James.

With both of us as trained florists, and after many years of talking about what a florist shop would look like if we ever did our own thing; we decided to literally put our money where our mouth was.

So instead of buying a house, (drat!) we decided to use our capital and start a small florist shop in Catherine Street, Henderson, Auckland. (Just outside the Westfield mall).
Truly a Ma & Pa enterprise - Phil did all the painting of all the shop and fittings, while Jo was sourcing products, and with the help of a friend, getting a small fledgling website set up. (and Nana was babysitting!)

We worked long, long hours to set up the shop, and literally suffered through a bout of severe food poisoning together on launch week.
I remember both of us lying on the floor upstairs in the shop, moaning and groaning, and taking turns to try and evacuate the dodgy takeaways!

Best Blooms was born, and opened as planned, on the First Day of Spring - 1 September 2006.

At the beginning, it was just the 2 of us, and Mum was literally upstairs with James in his playpen!
We were blessed by the help of some florist friends, as we found our feet over the next few months, and slowly we were able to add some wonderful staff members who were invaluable.


EARLY PHOTOS OF BEST BLOOMS FLORIST IN HENDERSON: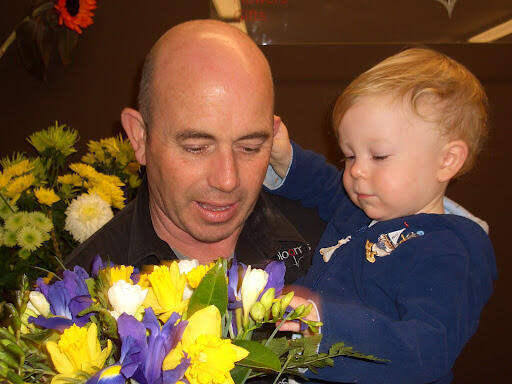 Phil and Baby James in the florist shop - First Year at Best Blooms in Henderson.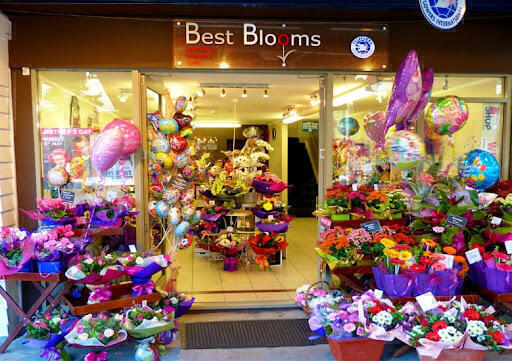 1st Mothers Day at Best Blooms Henderson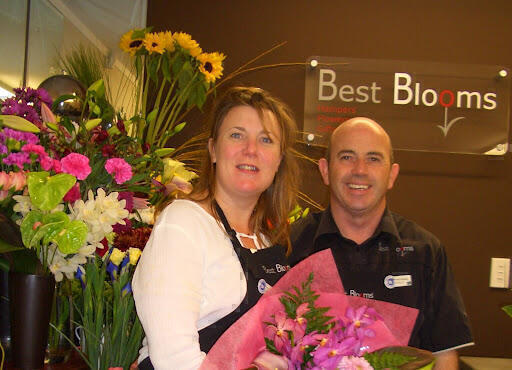 Jo-Ann Moss and Philip Selwyn - Owners Best Blooms Florist



TOP SHOP AWARDS - WINNER 2007
In 2007 we took a chance, and entered Best Blooms into the Retailers association Top Shop Awards. We were very proud of our customer service approach, and thought it was a good chance to hone our skills.
We went to the gala ball (yay, at last a night out!) and were so proud and amazed to be announced:


BEST BLOOMS FLORIST
2007 WINNER OF AUCKLAND'S GIFT SHOP CATEGORY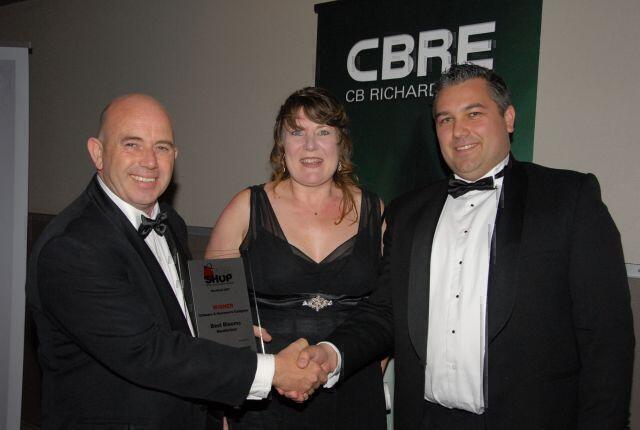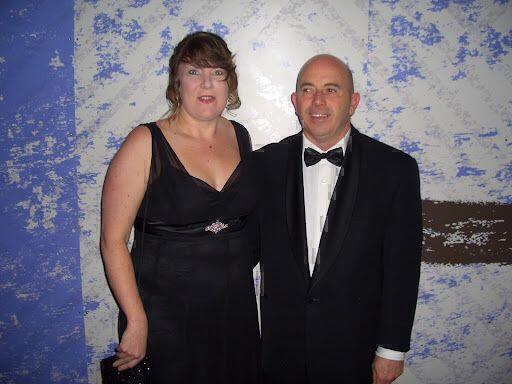 Philip Selwyn and Jo-Ann Moss accepting the Auckland Top Shop Award


Woah! What an exciting surprise!

Our business continued to grow, from both the flow of publicity from winning the Top Shop awards, and our increasing website sales.
We added new staff to our team, including Donna Banks, who is still with us over 10 years later, and is now our valued Studio Manager.

We also added a new baby to our family, Trent, who also had a turn at being the "Best Blooms baby upstairs". Our long term customers still ask about our Boys, part of being a small family business in the local community.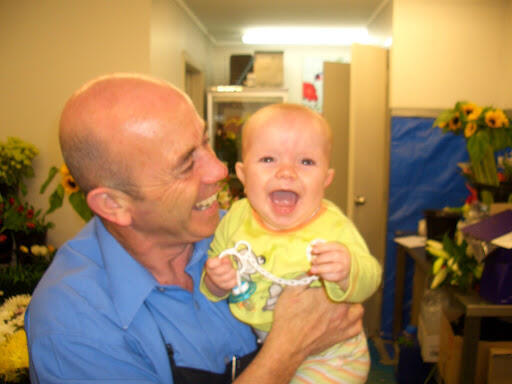 Baby Trent upstairs at the Flower Shop in Henderson.


As time progressed, our business blossomed, and there followed a whirlwind of early morning market buying, annual Valentine's Days, Mother's Days, and Christmas Events, hundreds of weddings, and the honour of many, many funerals, and thousands of flower deliveries.

We had our first major rebuild on the website, and relocated shops twice, to fulfil the need for more space for the ever growing business. Sales were driven by the strong online presence, which really is a true reflection of the changing and evolving habits of customers since we first opened in 2006. This also really helped us survive and thrive during the Global Financial Crisis.
As more families live further apart, shoppers want the convenience of same day delivery, and with last minute orders placed directly online, there is an increasing demand for a real local florist, who can service their needs across Auckland.
We have been so fortunate to have wonderful, supportive customers who keep recomending us, spreading the word, leaving Google reviews, Facebook recomendations and just telling their friends.

Now located at 653 Rosebank Road, Avondale, we are in a huge vintage warehouse, with polished wooden floors and natural light, and plenty of space for our growing team of florists, customer services and the important delivery logistics.

Best Blooms now has a team of over 11 staff - who are almost all West Auckland locals and includes 6 qualified florists, with over 100 years combined experience between them!

We have been truly blessed by the people in our team, we have had the privilege of working with some of the most experienced and talented florists in Auckland, and have a fantastic office team. We are even fortunate enough to have past team members come back to help us at Valentines Day and other key events. Many of our staff have been with us for over 5 years, and it is through their beautiful flowers, hard work and outstanding customer service that has helped us get this far.
You truly are only as strong as your team.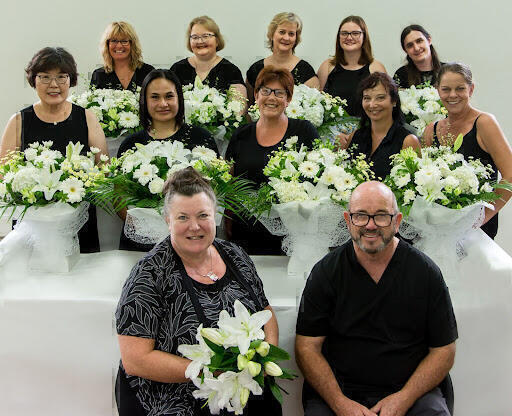 Best Blooms team:
Back row - Liz, Kelli, Ann, Chontelle, Alexis.
Middle row - Deborah, Tessa, Sheron, Donna and Sheree
Front row - Jo-Ann and Philip



2020 EXCITING MILESTONE - 100,000 ORDERS
Exciting Milestone!
In 2020 we sent out Online Flower Order number 100,000!

We are honoured and humbled by the trust our customers place in us to ensure their flowers are delivered on time, throughout Auckland, New Zealand.
What a Number!
100,000
This is a HUGE Number for us - a Huge number of Smiles, Happy Birthday's, Hugs, Condolences, Thank you's, Celebrations, Happy Anniversaries, I'm Sorry's, I love You, You're wonderful, I'm thinking of you, Congratulations, New Babies celebrated, Loved Parents remembered, Graduations, Engagements, Weddings and every other beautiful milestone of life, celebrated with Flowers and Gifts.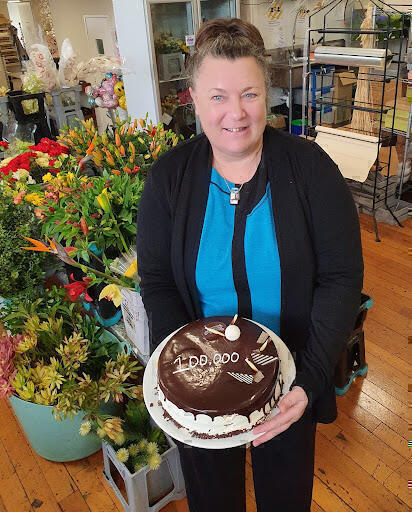 There is always cake for a Best Blooms Celebration!


So after surviving the ups and downs of 2020 and 2021, and all this has meant to business owners around the world, this brings us to 2022.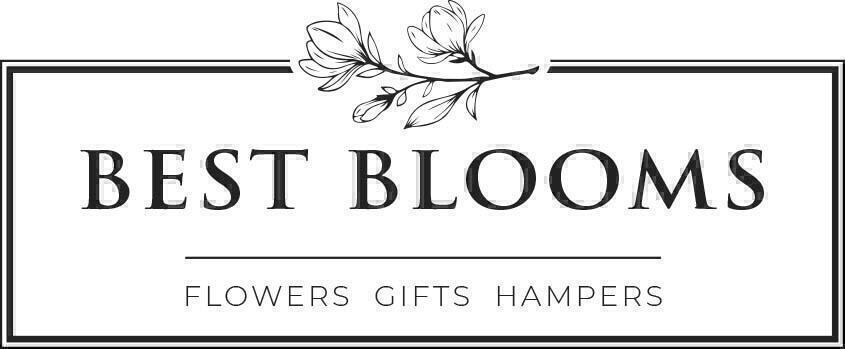 After many hours of hard work, and a truly amazing effort from our website partner Diane Blackmore, who has project managed, designed the logo and refreshed brand, kept us on track and on time, provided print ready files for stationery, and now to the launch of this stunning new website.
I can't thank Diane enough and can highly recommend her company for any website project. They literally are much much more than just a website designer.

We are so honoured that over 100,000 people have trusted Best Blooms website with their flower order.
100,000 deliveries, 100,000 lives we have touched, 100,000 days we have helped to be that little bit more memorable.

100,000 THANK YOU's to all of our customers - we so appreciate every single one of your orders.

We hope that you enjoy shopping on the new website - we have tried to make it as seamless and easy for you, and I look forward to your feedback. Go Shopping for Flowers >>

Thank you from our family to yours. We're still here and we're glad you're here too.

x

Jo and Phil



P.S. We did FINALLY manage to Buy a House in 2020!
After 15 years of continually saving, saving, saving then re-investing back into the business to keep growing, we FINALLY got Keys to our own house!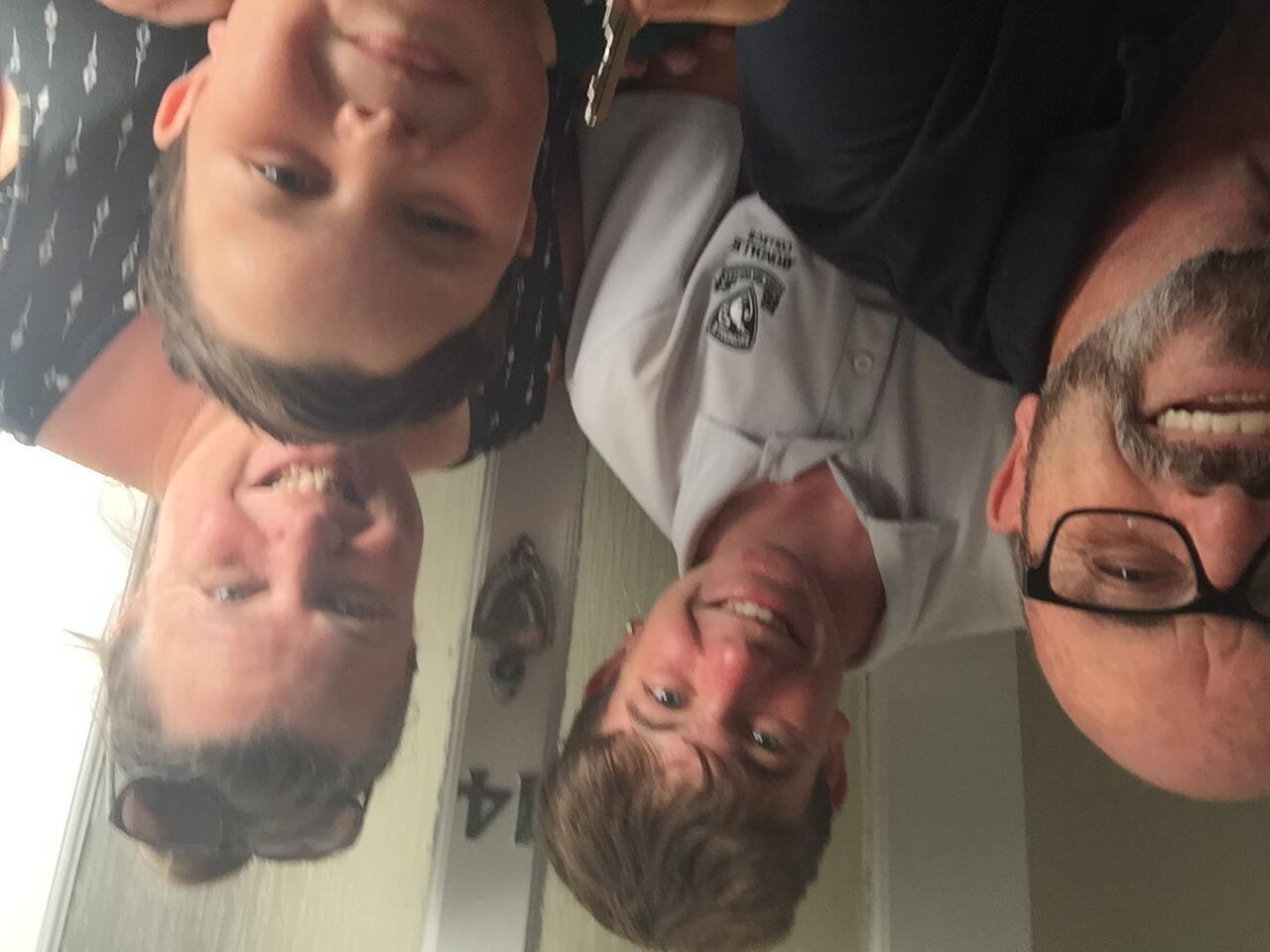 Those Baby Blooms Boys all grown up now.



Other Stories in News from our Florist Shop:
Jo-Ann Moss - Owner Best Blooms Florist & Gifts | 02 February 2022, 03:05 PM