In honour of Phyllis Moss - Mother of the Florist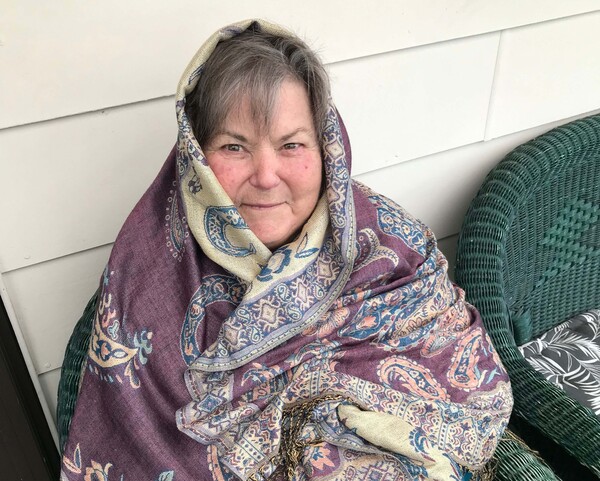 Best Blooms has always been a family business. Nothing illustrates this more than the input of my mum, Phyll Moss over the years.
Mum passed away Friday 15 September 2023

Best Blooms has always been a family business and I think nothing reflects this more than the input of my Mum - Phyll Moss. Sadly on Friday Mum has passed away after 3 hard, long months in hospital.

I want to tell you the story of how if it wasn't for her, I wouldn't be a florist and Best Blooms wouldn't exist.
---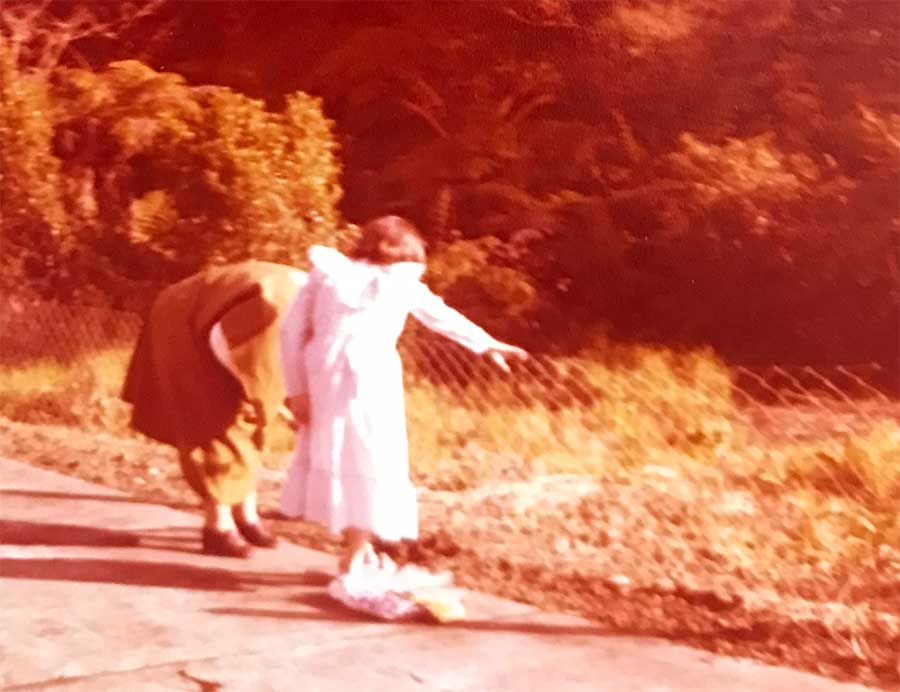 Childhood Memories of Giving Flowers
I have always absolutely loved flowers. Always.
Remembering very happy childhood memories of moments with flowers - at age 6 I was late for school, as I was out in the garden picking flowers for my favourite teacher and got an enormous cactus thorn in my foot. Mum calmly, eventually got it out, and then we took the flowers to present to my teacher. I was in floods of tears (pain and the fear of being late) but it was at that moment that I experienced the joy of what giving flowers could bring.

In one of my random childhood moments, I decided with our friends that we were going to pick flowers - ahem this meant weeds - dandelions and daisies, and we took them and gave them to the residents in the pensioner village close by. Again seeing the joy of giving unexpected flowers was sealed in my heart, and I never forgot that feeling.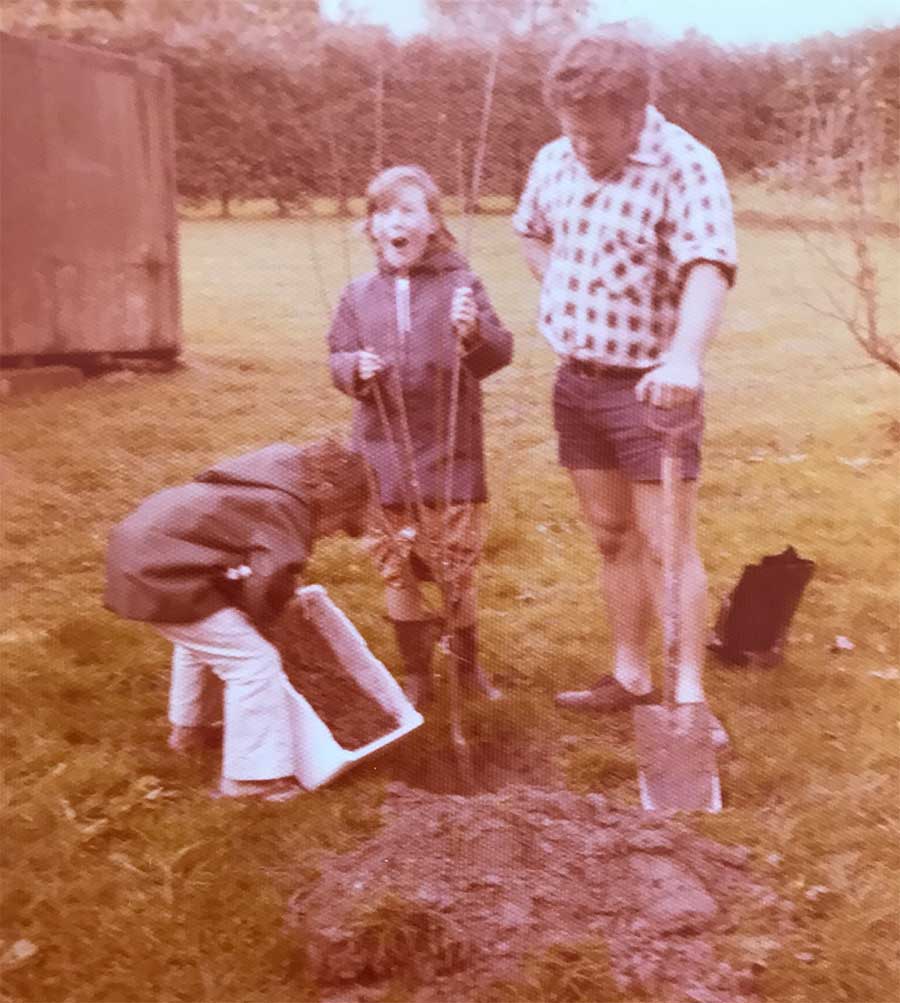 Growing Flowers
Mum tried many times to grow more flowers, which somewhat went against Dad's plans. He was a landscape gardener and was in the mode of scoria gardens and trees with no maintenance.
I remember planting daffodil bulbs and snowdrops with Mum (which unfortunately she planted in the mowing strip so Dad did mow them down).
One Christmas, she got me this amazing game of 'Guess the Flowers' which I played over and over again. I drew flowers all over my work books, spent many happy hours colouring in with her (always the most flowery pictures first!), and adored reading stories of the flower fairies, which absolutely captivated my imagination. She taught me all the names of flowers as we drove around Titirangi in her old Anglia - pointed out nasturtiums, morning glory, cinerarias and all the wild flowers. She loved them all.
I also asked for and happily got a Plum Tree for my 10th birthday (photo right), which I was over the moon about.
Church Flower Arrangements
Mum was always crafty and took herself off to night school for a flower arranging class. She loved arranging the flowers and proved to be a dab hand, making multiple dried flower arrangements for home. She was soon was in charge of the roster for weekly church flower arrangements.
We had many happy road trips together - foraging for flowers she could use in these large scale pedestal arrangements.
Over the years I remember collecting Agapanthus, Birds of Paradise, Red Hot Pokers, Bansksias, Bottlebrush, Rhododendrons, Hydrangeas, Bullrushes, Pampas Grass and mum's favourite flower - Green Goddess Arum lilies.
She always did an amazing job and I remember being very proud that she had made these beautiful floral displays with flowers and greenery, she and I had collected together.

She was so proud when I became a florist at age 16 - and showed off to all the church ladies on the day, I came to make the church flowers for her. She was chuffed to bits.
---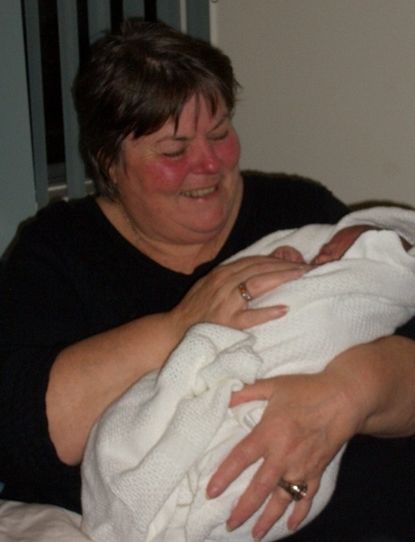 Early days of Best Blooms
After many years of life and travelling, my partner Philip (also a florist) and I returned home to Auckland in 2005 with our new baby James. We decided that it was time for us to open our own store. Our original small shop was located in Henderson and it had a shop downstairs and space upstairs. A porta-cot was installed and Nana would spend many days babysitting James (below) while we worked downstairs, she did this again when our youngest son Trent (left) was born.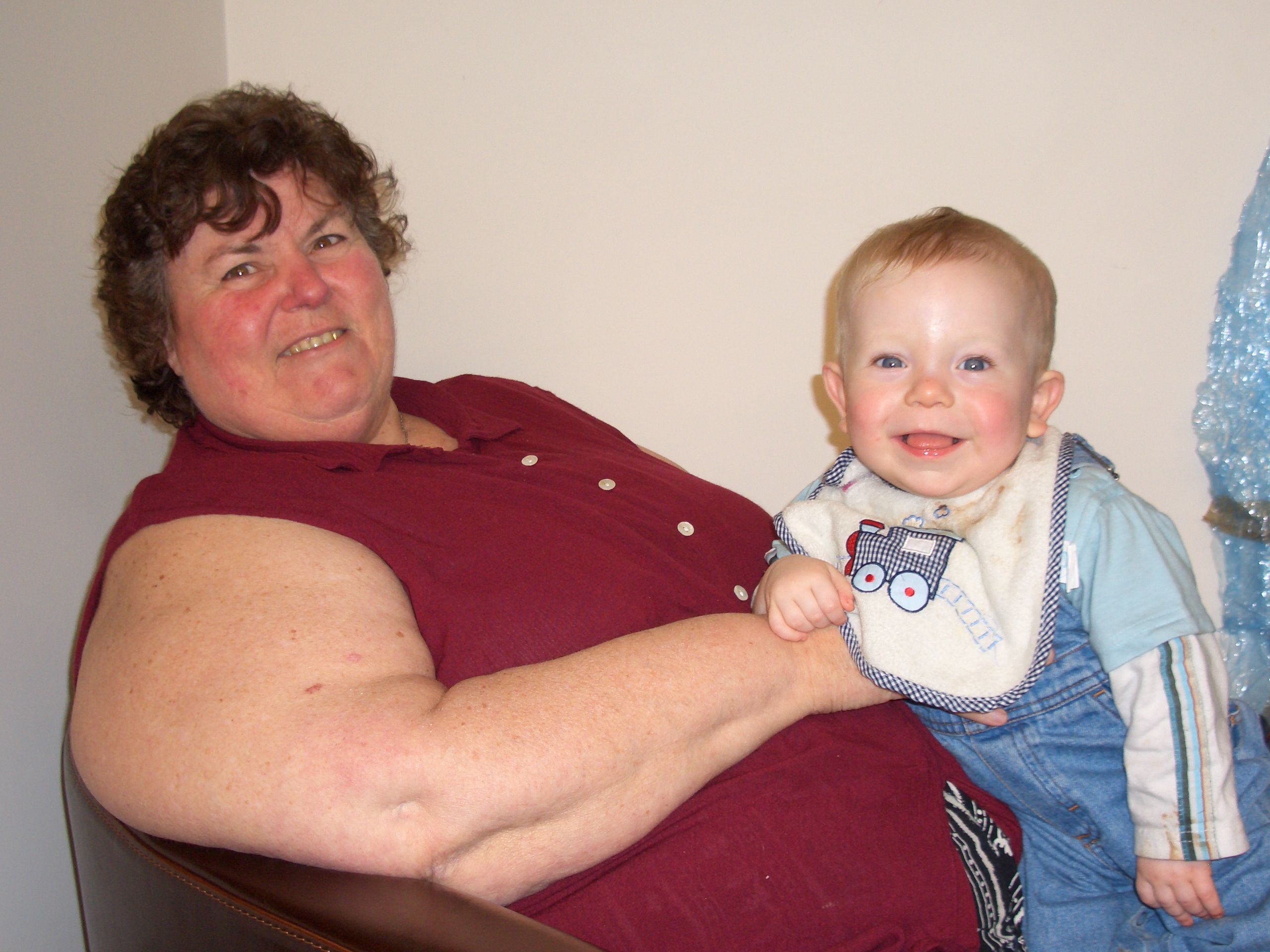 A Thousand Thank You's Mum!
Over the years of a young Best Blooms, Mum would make Voxes - thousands and thousands of voxes for us. She would come into the flower shop and sit for hours making them for us, in later years she worked at home making them, and her lounge would be overflowing full of cardboard voxes, as she kept us in supply.
As well as make up voxes, she would string labels for us, make and fold metres and metres of ribbons, weave flax flowers, glue Christmas baubles onto sticks and many, many other crafty helpful jobs that kept the wheels turning.
Of course this was all while balancing Nana duties - babysitting as needed and looking after the children when we worked long long hours at Valentine's Days and Mothers' Days.

She even gave us multiple personal loans to finance cars, and helped us out of trouble when the Global financial crisis hit.
She was a selfless giver, a clever maker and the best damn back end support a florist could have. We really couldn't have done it without her.

Thank you Mum - this goes nowhere near enough in thanking you for all you have done to help our business thrive, but thank you so much for every little input with your clever hands and kind giving heart.

... and thank you for inspiring me with the love of flowers.

On Friday after 3 long tortuous months in hospital Mum passed. I spent part of the morning in the garden picking her flowers and telling her the stories of each bloom as I picked it - who it came from, the memories of her that it reminded me of, the people who loved her.
A feeling of incredible peace and calm came over me, as I gathered flowers to show her my love.

If you have taken the time to read this - thank you. Please go and pick some flowers for your loved ones - the time together is precious and limited.

With love from my family to yours.
Jo-Ann x




Other Stories in News from our Florist Shop:
Jo-Ann Moss - Daughter | 18 September 2023, 06:16 PM